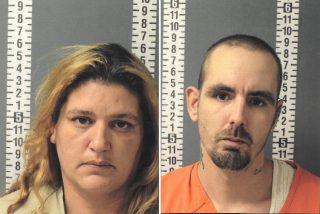 Parents of three young children are facing charges including assault, false imprisonment, and endangering the welfare of children, after authorities found the kids dirty, bruised, and malnourished in their home. Pennsylvania State Police said that Joshua and Brandi Weyant of Halifax, Pennsylvania intentionally starved the children because, "they did not want them anymore," WHP reported.
The couple allegedly locked the kids, aged 4, 5, and 6 in a bedroom for three months. The children told police that their parents beat them, and that they had to bang on a wall to get someone to unlock the door to let them use the bathroom. Apparently the Weyants didn't always heed the call, as authorities found urine and feces on the walls of the room and on the children themselves. Police also said that there was no heat in the children's room.
Brandi Weyant told police that Joshua instructed her not to feed the children, and threatened that she would be in trouble if she did. Brandi claimed that she still would sneak snacks to them when Joshua was sleeping. Joshua reportedly told police that he didn't want the kids to be "overfed."
The children have since been removed from the home and placed into the custody of the Dauphin County Children & Youth Services, although they are still being treated at a hospital.
[Images via Pennsylvania State Police]
Have a tip we should know? [email protected]