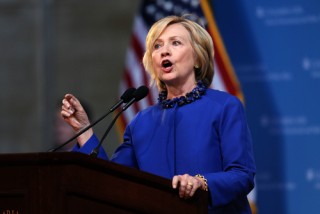 Cary Peterson spent all of May behind bars in New Jersey, arrested for securities fraud and sending handwritten complaints to the district court about the difficulty of using prison phones.
He spent June getting out on bail and creating a new super PAC.
Peterson first made headlines last year as the "chairman" of a hybrid super PAC called Ready for Bernie Sanders 2016. After the organization came under fire from both the Sanders campaign and the Federal Election Commission for misleading voters, Peterson caught even more heat — this time from the FBI and the Securities and Exchange Commission: He was arrested in March on multiple counts of fraud related to his business dealings in a trail of deceit that started years before his involvement in presidential politics. Now out on bail and under a judge's orders to remain at his mother's residence in Arizona, Peterson is listed as the "chief coordinator" of a second super PAC, this one in support of Hillary Clinton.
The new PAC, called Democrats Socially United, registered with the FEC June 16 — just a week after Peterson posted the $6,000 in bail required for him to be released from Essex County Correctional Facility in Newark, N.J. The group set up a website shortly thereafter, with the tagline "Democratic Party United: Socially United We Stand by Hillary Clinton for 2016 Election." Visitors to the site are encouraged to donate via credit card or electronic check, with no mention of where the money is going or what sort of activity it might fund.
The PAC offers a telephone number for an automated hotline, though voicemail messages left by OpenSecrets Blog were not returned. Its website lists the organization's address as a maildrop in Bellingham, Wash., but its FEC filing listed a maildrop in Las Vegas — the same maildrop that Peterson listed as his personal address in the civil complaint filed against him by the SEC and the same one that served as the address for his Sanders super PAC.
The current financial condition of Peterson's pro-Sanders PAC is unclear, as the organization has not filed any of its required reports with the FEC since September. Established last February as Ready for Bernie Sanders 2016, the PAC was quickly called out for including a candidate's name in its title, which is against FEC rules. Peterson complied by changing the group's name to Americans Socially United, but the Sanders campaign — which tried to distance itself from outside spending groups — continued to push back via a cease-and-desist letter.
Still, the PAC was able to pull in nearly $90,000 — most notably from James Bond actor Daniel Craig, who gave almost $50,000 to the organization while also contributing the maximum $2,700 directly to the Sanders campaign. Several of the donors to Peterson's PAC said they believed they were giving to the Sanders campaign itself and did not realize that Americans Socially United was a separate group, according to reporting by the Center for Public Integrity and as seen in a Reddit discussion.
As of the PAC's last filing with the FEC, Americans Socially United was almost $50,000 in debt.
Just over a year after establishing Americans Socially United, Peterson was arrested at San Francisco International Airport for wholly separate incidents of fraud. The SEC had traced years of what it says was activity by Peterson in his role as president and CEO of the micro-cap company RVPlus — including allegedly falsifying multimillion dollar agreements with foreign governments, lying about a relationship with the United Nations and posing as a fake investor to spread incorrect information on finance message boards. He was charged with two counts of false certification and one of securities fraud, with each charge carrying a maximum possible sentence of 20 years in prison and $5 million in fines.
According to court documents, a judge set bail of $6,000 in Peterson's case on June 6. Peterson posted the amount later that week and was set to be released from prison on the condition that he remain at his mother's home in Arizona under electronic monitoring and obey a curfew from 7:00 p.m. to 8:00 a.m.
One week after Peterson's attorney submitted paperwork saying that bail had been posted, Democrats Socially United filed its statement of organization with the FEC. No trial date has been set in Peterson's case.
Peterson declined to reveal details of his finances to the court and opted to be assigned a court-appointed attorney. That lawyer, Assistant Federal Public Defender Brian Reilly of New Jersey, did not return multiple messages left on voicemail.
Emma Baccellieri is a reporter with OpenSecrets.org, a non partisan and nonprofit organization that tracks money and politics. 
Have a tip we should know? [email protected]