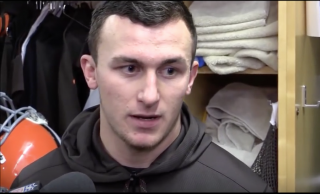 Johnny Manziel is having a bad week. Earlier, one of his lawyers sent a text to the press saying that Manziel was planning on taking a plea deal and reportedly said "Heaven help us if one of the conditions is to pee in a bottle."(his attorneys have since denied there is any deal in the works) Now, he is catching flak from the NFL.
The league has decided to suspend Manziel for four games for violating its substance abuse policy, according to NFL Network. The suspension would begin at the start of next season if he is signed by a team. Fortunately for Manziel, the suspension would not roll over into 2017 if he is not signed by a team. However, this decision sets up another issue for Manziel if he wants to return to the NFL anytime soon.  If signed, Manziel would also face a review through the NFL's personal-conduct policy because of the indictment on an assault charge against his girlfriend.
Johnny Manziel wearing a Josh Gordon Jersey in Cabo smoking a joint 😂 pic.twitter.com/pwyWlvQNco

— NFL (@AllNFL_) June 30, 2016
Manziel has also claimed that Thursday would be his last night of partying. Judging by the tweet, we will see how that goes. Even though Manziel expressed a desire to get clean and return to the NFL, Manziel's friends and family have apparently lost hope in the former first round pick.
"He's a druggie. It's not a secret that he's a druggie," Paul Manziel said in a phone interview Friday. "I don't know what to say other than my son is a druggie and he needs help. He just hasn't [sought] it yet. Hopefully he doesn't die before he comes to his senses. That's about all you can say. I don't know what else to say," his father told ESPN in an interview.
Have a tip we should know? [email protected]