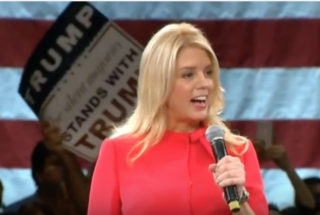 Bribery complaints were filed against both Donald Trump and Pam Bondi over a donation that Trump made to Bondi's campaign. LawNewz.com has learned that Whitfield Larrabee, a Boston trial lawyer, filed the complaints with the US Attorney's Office in both New York and Florida.  He alleges a violation of federal bribery laws after Bondi solicited $25,000 for her campaign from Trump in 2013.
During this time, Bondi and her office were reviewing claims that Trump University's seminars were worthless and that students were duped out of thousands of dollars.  Shortly after receiving the Trump donation, Bondi found that these claims had no merit and opted not to take action against him or his company.
Larrabee believes these actions are suspicious and decided to file a complaint against both Bondi and Trump for bribery. At first, he filed a complaint with the Florida Board of Ethics on June 7th, 2016. However, a criminal investigation is outside of their jurisdiction and it is up to the Governor of Florida to appoint an outside investigator. Florida Governor Rick Scott subsequently refused to hire an outside investigator.
"There is an unholy alliance between Trump, Bondi and Scott.  Consequently, the complaints filed today demand that United States and New York officials conduct independent and impartial investigations, convene grand juries, and obtain indictments against Trump and Bondi," he wrote in an email.
Bondi has claimed that these allegations are untrue and has said that she referred complainants to the class-action suit that is currently on going in New York.  However, she decided not to join that lawsuit.  Bondi's office began looking into the Trump University complaints on September 13, 2013.  The donation from Trump was received by her political committee, And Justice for All, on September 17, 2013. Bondi made the decision to pass on the complaints a month later according to the documents.
"At a campaign rally on January 9, 2016 in Clear Lake Iowa, Trump said, 'I've given to everybody, because that was my job.  I've got to give to them because, when I want something, I get it.  When I call, they kiss my ass. It's true.  They kiss my ass. It's true.' Trump's own statements expose his naked corruption.  It is not even hidden by a fig leaf," Larrabee told LawNewz.com in a statement.
You can read the full complaint below:
United States and New York Bribery Complaints Against Trump
Have a tip we should know? [email protected]