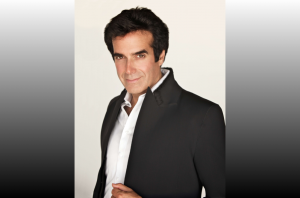 If you're world-renowned magician David Copperfield, you've grown your entire career off of the success of tricks such as the famous "vanishing crowd" ruse, an effort to call up volunteers to the stage and make them disappear in front of the audience's eyes.
Well, the secrets of that long-running trick — which Copperfield estimates has been performed at his shows for more than 15 years with over 100,000 participants — are now exposed, thanks to an ongoing court battle.
When Gavin Cox was called up to the stage to take part in the gimmick in November 2013, he hit the ground hard during the "total pandemonium" that ensued. Cox, 55, claims that the crowd of volunteers are submerged into blackness and given only moments to make their way to another part of the theater.
WAToday broke down the intricacies of the trick as such:
Copperfield throws 13 inflatable balls into the audience. Members of the public who catch one are called on stage.

The 13 participants are suspended in a cage and given torches to shine back at the audience.

The volunteers are then taken through a secret passage and outside the theatre, with Copperfield lifting the cover to reveal they are gone.

They then "reappear" at the back of the stage still holding the torches they were given by Copperfield – to the surprise of the audience.
Copperfield then allegedly meets with the chosen participants personally and asks them not to reveal how the trick is pulled off. It is doing the 'secret passage' portion of the trick that Cox claims he lost control. "You don't know where you are going. It's dark. There are hands pushing you on your back," he said. Cox is suing Copperfield and the MGM Grand in Las Vegas as a result of a head injury he claims he suffered that night.
"As I went around a corner, my feet slipped from underneath me and I hit the ground," he furthered. Seeking punitive damages, Cox and his wife claim that the famous magician, "failed to prevent, inspect, maintain and warn of dangerous conditions."
The legal team representing Copperfield aren't so sure. They claim that the trick has been implemented successfully for many years without incident, telling WAToday simply, "The history of the show speaks for itself. We deny all allegations. Unfortunately we cannot comment further due to ongoing litigation."
Have a tip we should know? [email protected]