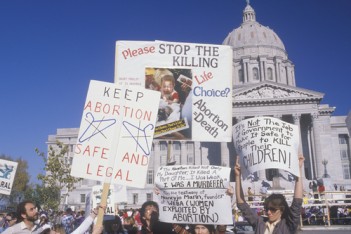 The Oklahoma senate passed an abortion bill on Thursday that makes it a felony for doctors to perform most abortions in the state.  Governor Mary Fallin now has five days to sign or veto the bill before it automatically becomes law.
Critics say the first of its kind bill is unconstitutional as it essentially acts as a ban on abortions in the state.  Several groups have already promised to challenge the matter in court.
"This total ban on abortion is a new low. When abortion is illegal, women and their health, futures, and families suffer," Amanda Allen, a lawyer at the Center for Reproductive Rights, wrote in a statement obtained by The Hill.
The bill passed the state senate by a vote of 33-12 on Thursday, according to the Associated Press. The State House of Representatives passed the bill in April.
Under the new law, doctors who perform an abortion can lose their medical license and be subject to criminal punishment of up to three years in prison.  The only exception is for doctors who perform an abortion to save the life of a mother.
"Most people know I am for defending rights," Sen. Nathan Dahm, the bill sponsor, told NewsOK.com. "Those rights begin at conception."
Have a tip we should know? [email protected]