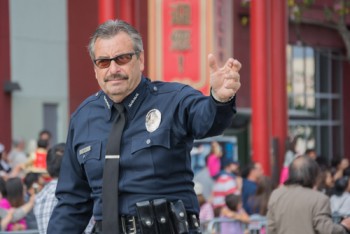 The Los Angeles Police Protective League (LAPPL), a union representing over 9,000 LAPD officers, plans to file a federal lawsuit on Thursday that accuses LAPD Chief Charlie Beck of exerting "corrupting influence" over the department's officer discipline process.
According to statement released Thursday by the LAPPL, the lawsuit asks a federal court to declare that LAPD's officer disciplinary process is unconstitutional.
Under the current system, the LAPD police chief sends officer discipline recommendations to a three-person panel known as the department's Board of Rights. The Los Angeles City Charter requires that the Board consists of two LAPD command staff members and an independent civilian member. The Board then makes a final determination on whether to uphold the chief's discipline recommendation.
The union argues the City Charter's requirement that two LAPD command staff members sit on the Board violates the accused officer's 14th Amendment due process rights because the command officer's "owe their rank" and "their livelihood" to Chief Beck.
"The lawsuit details Chief Beck's command-staff exerting improper influence over police members of the BoR panel to uphold the chief's recommended discipline decision," the union wrote in a statement to CBS Los Angeles.
According to FOX 11, the union lawsuit references a separate lawsuit recently brought by four LAPD captains (who are not union members) against the department that details "the inappropriate influence from Chief Beck during the [Board's review] process."
Police Protective League Union President Craig Lally told local news outlets that union members and attorneys will provide further details about the lawsuit at a press conference scheduled for late Thursday morning.
Have a tip we should know? [email protected]