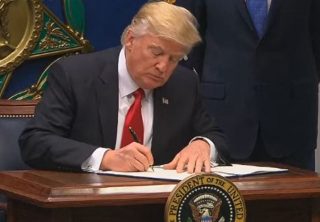 WASHINGTON (AP) — The Latest on President Donald Trump (all times local):
3:50 p.m.
A White House official says the Trump administration will likely contest the merits of its travel ban in district court rather than appeal a restraining order on the ban in the Supreme Court.
The official also left open the possibility that the White House could rework President Donald Trump's original executive order that temporarily halted entry to the U.S. from seven majority-Muslim countries. The official says "all options" are on the table with regard to that order.
On Thursday, the 9th U.S. Circuit Court of Appeals issued a 3-0 decision that kept Trump's travel ban from going back into effect. Trump says he has "no doubt" his administration will ultimately win in court.
The official was not authorized to discuss the administration's planning publicly and insisted on anonymity.
-By Julie Pace
Have a tip we should know? [email protected]