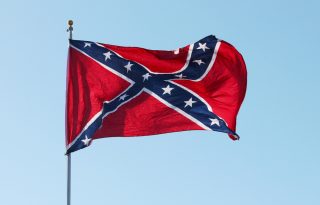 Police in Traverse City, Michigan have announced the suspension of Officer Michael Peters, after Peters allegedly drove a truck decorated with a Confederate flag near a "Love Trumps Hate" rally. The event was protesting the election of Donald Trump.
Peters was allegedly off-duty when he drove to the rally with the flag affixed to his truck, parked, and drank a beer.
Police chief Jeff O'Brien told the Traverse City Record-Eagle newspaper that his department is currently investigating the incident, after receiving nearly 100 emails from people asking for Peters to be fired. ""Let me assure you that we hold our officers to a higher standard and the flag incident will be fully investigated," O'Brien said in a Facebook post.
According to the Record-Eagle, Peters will continue to receive pay during his suspension, due to his union contract.
O'Brien has yet to speak to Peters, but is scheduled to meet with him Monday morning.
Despite the outcry over the alleged act, O'Brien is confident that his city will push forward. "The community will get through this."
Have a tip we should know? [email protected]