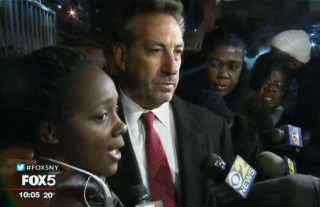 In November 2014, NYPD Officer Peter Liang shot and killed Akai Gurley in a Brooklyn housing project. Gurley was unarmed and walking down a dark stairwell with a friend, when Liang, on patrol behind him, fired his weapon and a richochet hit Gurley. The New York Daily News reported Monday night that the city has reached a settlement agreement with Gurley's family for their wrongful death lawsuit. Under the agreement, the city will pay $4.1 million, with the New York City Housing Authority paying $400,000, and Liang paying $25,000 to the mother of Gurley's child, Kimberly Ballinger.
EXCLUSIVE: NYC to pay $4M+ in settlement to Akai Gurley's family after fatal cop shooting https://t.co/z59mYGdpTY pic.twitter.com/rPF87ffxhd

— New York Daily News (@NYDailyNews) August 16, 2016
The money will be placed in a fund for Gurley's daughter, Akaila, and will not be touched until she turns 18. It will be invested in annuities that the Daily News says will yield $10 million during Akaila's lifetime.
Liang was fired from the police department and convicted of involuntary manslaughter, but a judge later reduced the charge to criminally negligent homicide. Liang said in his testimony that the shooting was an accident. He apologized to Ballinger before he was sentenced to five years of probation and 800 hours of community service for the killing. Ballinger said in an interview with New York's PIX11 News after the sentence was announced, "That apology didn't mean nothing."
A spokesperson for the city Law Department told the Daily News that the settlement is "a fair resolution of a tragic matter."
[Image via screengrab]
Have a tip we should know? [email protected]