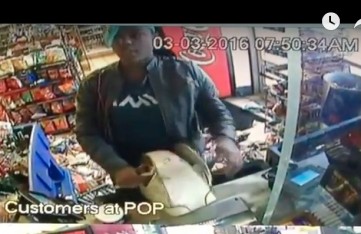 The Jacksonville Sheriff's Office on Monday released absolutely crazy surveillance video from an incident they say happened at a Florida gas station back in March.
According to the sheriff's office, employees at the Shell gas station confronted a woman who they suspected of stealing $11 worth of candy bars.  After the woman refused to return the items, investigators say the employees locked the front doors to prevent the woman from leaving the store.  Surveillance video from inside the store captured what happened next.
WATCH:  
The woman was apparently not very happy about being stuck inside the store.  Video shows the woman grabbing items off the shelves and throwing them all over the store.  After a few minutes, one employee appears to come out from behind the counter in a futile effort to stop the woman from trashing the store.
The woman then switches tactics, moving from tossing dry goods to grabbing beer bottles and smashing them on the floor.  This seems to attract the attention of potential customers who appear to be looking through the front door, while presumably locked outside the store.
The whole episode goes on for close to ten minutes before the employees finally seem to give up, opening the door and allowing the suspect to escaped on foot.  Oddly, there is no mention of whether the employees called the police, or, if they did, why it seemingly took so long for officers to respond.
The Jacksonville Sheriff's Office said they decided to finally release the video in the hopes the public can help identify the woman.  They are offering up to a $3,000 reward for information leading to the suspect's arrest.
Have a tip we should know? [email protected]