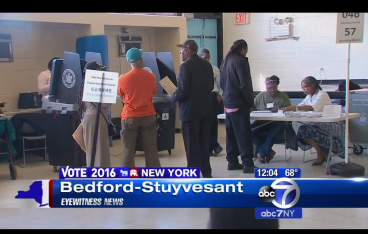 The New York City Comptroller is ordering an audit after the New York City Board of Elections confirmed more than 125,000 voters in Brooklyn were removed from the voter rolls. This comes among widespread confusion and trouble at various polling locations.
Comptroller Scott Stringer said this in a statement:
"There is nothing more sacred in our nation than the right to vote, yet election after election, reports come in of people who were inexplicably purged from the polls, told to vote at the wrong location or unable to get in to their polling site. The people of New York City have lost confidence that the Board of Elections can effectively administer elections and we intend to find out why the BOE is so consistently disorganized, chaotic and inefficient.  With four elections in New York City in 2016 alone, we don't have a moment to spare."
There is also an ongoing lawsuit filed by a group which claims several hundred voters had their party registration changed without their consent. A hearing was held today in federal court.  Here is a copy of the audit letter sent to Michael J. Ryan, Executive Director of the New York City Board of Elections.
Stay with LawNewz.com for updates.
Have a tip we should know? [email protected]
Rachel Stockman - Editor in Chief / On Air Host