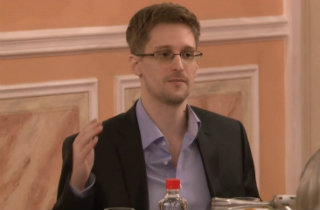 On Wednesday, the United States Attorney's Office for the District of Maryland announced that Harold Thomas Martin III, a contractor with the National Security Agency, was charged with multiple charges related to taking classified materials with him. Technically, he was arrested and charged during the last week of August, but the complaint was sealed from public view before Wednesday. According to the New York Times, one notable fact about Mr. Martin is that he was working for Booz Allen Hamilton, the same firm that Edward Snowden was at when he leaked information about the NSA's domestic spying programs.
As of this writing, the unsealed filings have not hit the court website yet.  According to the announcement from the U.S. Attorney's Office, both "hard copy documents and digital information stored on various devices and removable digital media" were found at Martin's home when a search warrant was executed on August 27th.  A "large percentage" of what was found apparently had markings indicating that they were classified and property of the United States government. Among his cache were "were six classified documents obtained from sensitive intelligence and produced by a government agency in 2014," and "[t]he disclosure of the documents would reveal those sensitive sources, methods, and capabilities."
According to the Times, those "sensitive sources, methods, and capabilities" are computer code developed with the goal of hacking into the networks of foreign governments. Booz Allen Hamilton is, in the words of the Times, "responsible for building and operating many of the agency's most sensitive cyberoperations," and what they describe certainly fits the bill. The apparent goal was to break into the networks of Russia, Iran, China, and North Korea.
If Martin were to be convicted, he could be sentenced to up to one year in prison for the charge of unauthorized removal and retention of classified materials, and 10 years  for theft of government property.
[Photo: Wikimedia Comons]
Have a tip we should know? [email protected]