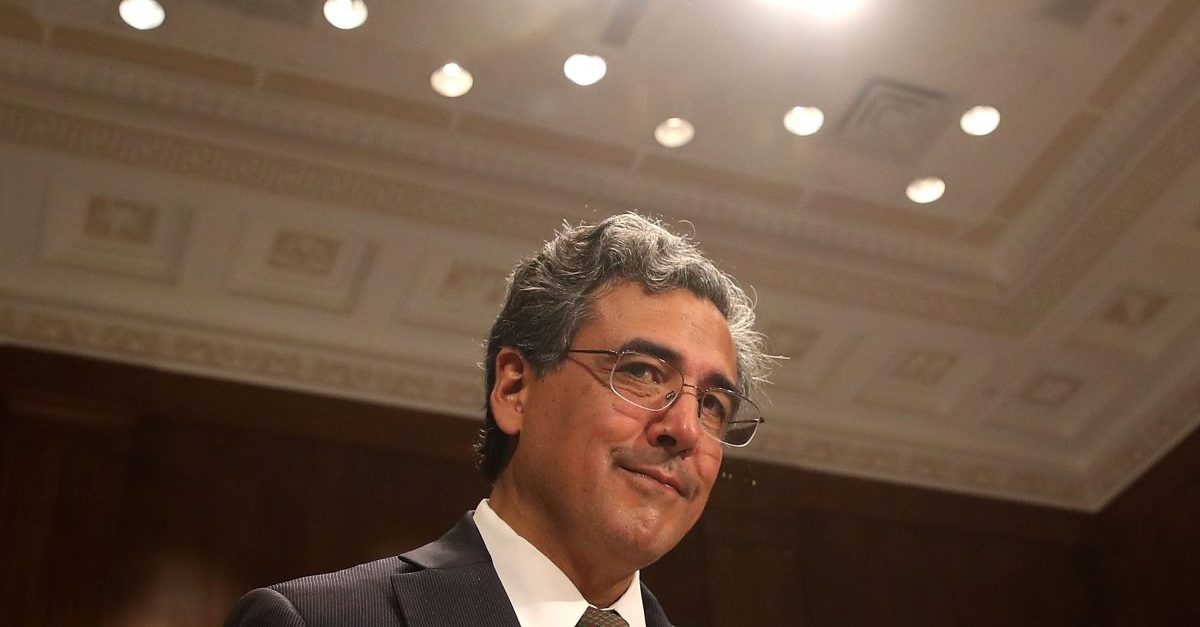 Solicitor General Noel Francisco is most likely next in line now that Deputy Attorney General (DAG) Rod Rosenstein has either resigned or will be imminently fired as is being currently speculated. President Donald Trump could, however, appoint someone else to fill the role, at least as acting DAG and temporarily.
Axios earlier reported that Rosenstein intends to do exactly that. Per their report late Monday morning:
Deputy Attorney General Rod Rosenstein has verbally resigned to Chief of Staff John Kelly in anticipation of being fired by President Trump, according to a source with direct knowledge. Per a second source with direct knowledge: "He's expecting to be fired," so he plans to step down.
Disputing Axios' reporting, however, CNN claims that Rosenstein simply expects he'll be fired soon. Either way he is out.
Eyebrows were initially raised on Friday when the New York Times published a controversial story wherein Rosenstein apparently suggested wearing a wire into the White House and discussed invoking the 25th Amendment against Trump. While Rosenstein has issued denials and a Department of Justice spokesperson called the "wire" remark sarcastic, many nonetheless saw the Times story as a pretext for the president to fire Rosenstein. Despite the veracity of the above-mentioned reporting, one thing is clear: Rosenstein certainly felt the pressure after the Times piece ran.
To be clear: according to the Department of Justice (DOJ), Solicitor General Francisco is the one who should move up the chain to take Rosenstein's job according to the agency's longstanding order of succession. (The previous number three person in the department, Rachel Brand, resigned in February and so far the Trump administration has not appointed her replacement.)
Bare in mind, Trump could appoint someone else to take over the role, but as of now, Noel is next up, according to all reports. And, even in the event Trump names someone else, that may not matter much insofar as all things Russia and Mueller are concerned. As University of Texas Law Professor Steve Vladeck noted late Monday morning:
Just to be clear, anyone @realDonaldTrump names as Acting Deputy AG would not be in the line of succession to be Acting AG, and so wouldn't supervise Mueller.

Only a new, Senate-conformed Deputy AG would displace Francisco as Acting AG for all things Russia… https://t.co/V7xDm08iMz

— Steve Vladeck (@steve_vladeck) September 24, 2018
Here are five things to know about Francisco now that Rosenstein is out.

1. He's a Movement Conservative Through and Through
Francisco previously clerked for late Supreme Court justice Antonin Scalia before a couple years in private practice. He later worked on George W. Bush's legal team during the controversial Florida recount following the contentious 2000 presidential election. After that, Francisco bounced around the second Bush White House. In 2001, he was appointed as an associate counsel to President Bush under the Office of Counsel to the President. In 2003, Francisco worked in the Department of Justice via the Office of Legal Counsel for the Deputy Assistant Attorney General.
In 2005, Francisco moved back to private practice at the Washington, D.C. big law firm of Jones Day. While there, he appeared before the Supreme Court several times. His most consequential case, in precedential terms, was McDonnell v. United States wherein Francisco distinguished himself by having former Virginia Governor Bob McDonnell's corruption conviction overturned by the nation's high court–a case widely considered to have made it all but impossible to charge executives with corruption.
2. He's No Great Fan of Special Counsel Investigations
One of the George W. Bush administration's biggest scandals was the politically motivated firing of nine U.S. attorneys. Francisco was long gone and in private practice by then, but turned up at a House committee hearing in order to give testimony in favor of the administration. When pressed as to whether it would be appropriate for the Department of Justice to appoint a special counsel to investigate the Bush administration, Francisco said, "I don't think it would be appropriate."
He continued, saying, "My own personal belief is that when you hand these issues off to the career prosecutors in the public integrity sections in the U.S. attorneys' offices in the Department of Justice, those attorneys are generally better able to assess whether a case should be pursued."
3. He's Very Much a Fan of Vast Executive Power
Francisco believes the Constitution empowers the president to directly hire-and-fire each and every official who has power via the executive branch. Appearing before the Supreme Court in February of this year during a case regarding administrative law judges at the Securities and Exchange Commission, Francisco argued, "The president's constitutional responsibility to faithfully execute the laws requires adequate authority to remove subordinate officers."
The solicitor general continued, "The framers understood the close connection between the president's ability to discharge his responsibilities as head of the executive branch and his control over its personnel…The president's ability to execute the law is thus inextricably linked to his authority to hold his subordinates accountable for their conduct."
4. His Return to Government Has Been Swift
Francisco left Jones Day after being appointed by President Trump to the position of Principal Deputy Solicitor General for the United States on January 23, 2017. Instead, however, the Bush II retread served as Acting Solicitor General from the date of his appointment until March 10, 2017–the day after former FBI director James Comey was fired.
Francisco had been nominated to fill the vacancy he was already exercising the duties of, however, on March 7, 2017, but his confirmation hearing came the day after Comey was fired and this set off alarm bells in the U.S. Senate. Francisco was then asked to submit a statement outlining how he might exercise independence from the White House. He replied, "If confirmed, I will provide the President, the White House, and any other entity that I am called upon to advise with candid and independent legal advice."
5. Francisco is Poised to Take Over the Mueller Probe
Rachel Brand resigned as associate attorney on February 8, 2018. She was replaced in that role by Jessie Panuccio, an occasional aide to Florida Governor Rick Scott. But Panuccio hasn't actually been confirmed to the post and is therefore only the acting associate attorney general. This, in effect, makes Francisco the third-most ranking official in the Department of Justice.
Should Rosenstein be fired, that means full authority over Robert Mueller's expansive Russia-and-corruption probe could soon fall to Francisco–a man with a knack for derailing corruption inquiries and with little patience for the concept of a special counsel.
Aaron Keller contributed to this report.
[images via Mark Wilson/Getty Images]
Follow Colin Kalmbacher on Twitter: @colinkalmbacher
Have a tip we should know? [email protected]