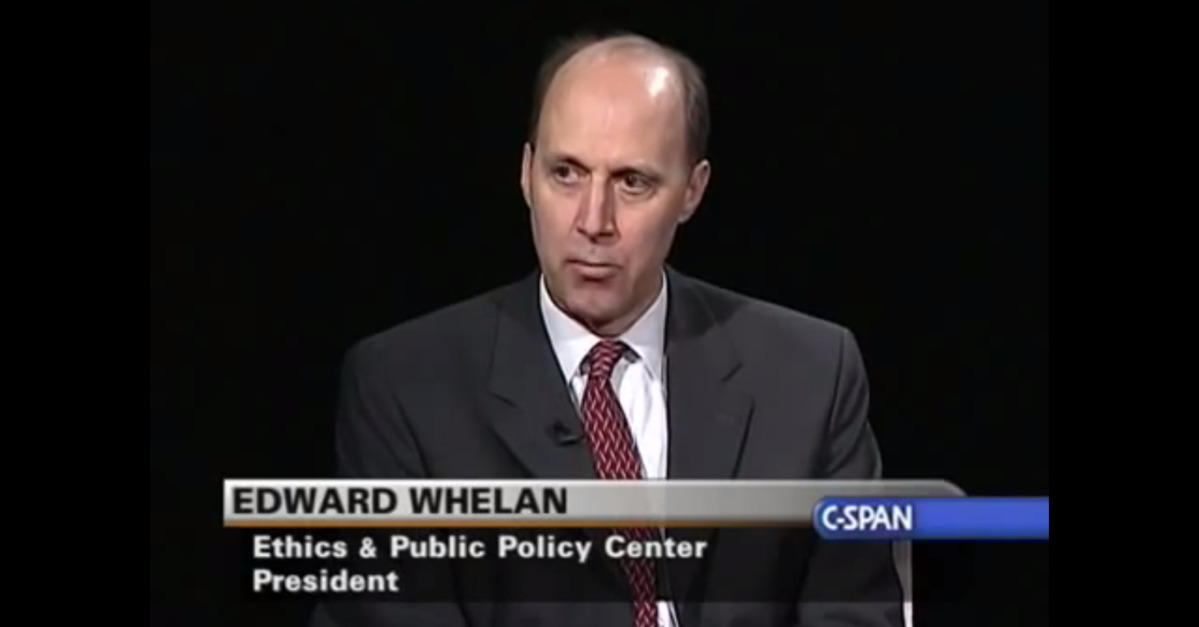 Ed Whelan will take a leave of absence from the Ethics and Public Policy Center (EPPC) after tweeting a potentially libelous and unsubstantiated theory that one of Brett Kavanaugh's Georgetown Prep classmates was actually the man who sexually assaulted Dr. Christine Blasey Ford.
Whelan's mistaken identity narrative was widely-panned and criticized. As noted, the inclusion of another man's identifying details also opened the Zillow-armed author up to plausible defamation charges. Law&Crime's Ronn Blitzer noted:
In this case, Whelan published his accusation on Twitter for the world to see, and it accused the person of a crime, which in many jurisdictions constitutes defamation per se, meaning it's automatically considered damaging without the person having to prove harm.
Whelan himself eventually deleted the thread and later referred to the incident as "appalling and inexcusable" in a tweet sent long after the theory had already gone viral–eventually making its way into the ears and out of the mouths of the hosts on Fox and Friends.
Radio silence mostly followed, though Whelan did find the time to retweet a few more articles supportive of his longtime friend Kavanaugh. Then came the mea culpas.
Late Sunday, Whelan apologized again, directly taking responsibility for naming a previously uninvolved third party. He wrote, "I apologize deeply and sincerely to all those whom I have harmed by my appalling and inexcusable tweet thread last week — above all, the person whose name I wrongly made public."
He also had an apology of sorts for Professor Ford. Whelan continued, in a way that made it clear he wasn't ready to accept Ford's allegations against Kavanaugh:
I also apologize to victims of sexual assault and to Dr. Ford for these and other tweets that did not address with respectful consideration the difficult question of how to assess allegations of sexual assault. I do not believe that all such allegations must be accepted as true, and I believe further that the usual inquiries into motivation, cognition, memory and other matters that apply to other charges properly apply to these as well. But my tweets did not advance the discussion in a constructive way.
Apologies aside, the fallout from his Twitter thread was apparently so disastrous, however, that Whelan attempted to resign from the D.C.-based conservative think tank he's long called home.
According to a statement from EPPC's board of directors, the center rejected Whelan's permanent resignation and sent him away for the equivalent of a long vacation. The statement reads, in part:
After deliberation, the board declined to accept Mr. Whelan's resignation, but determined that he will take a leave of absence from the organization during which time Yuval Levin, EPPC's Vice President and Hertog Fellow, will be in charge. The board will meet in a month to review the situation.
Effective September 21, it's presently unclear whether Whelan's absence from EPPC will be paid or not. Law&Crime repeatedly reached out to EPPC for comment and clarification on this story, but no response was forthcoming at the time of publication.
[image via screengrab]
Follow Colin Kalmbacher on Twitter: @colinkalmbacher
Have a tip we should know? [email protected]