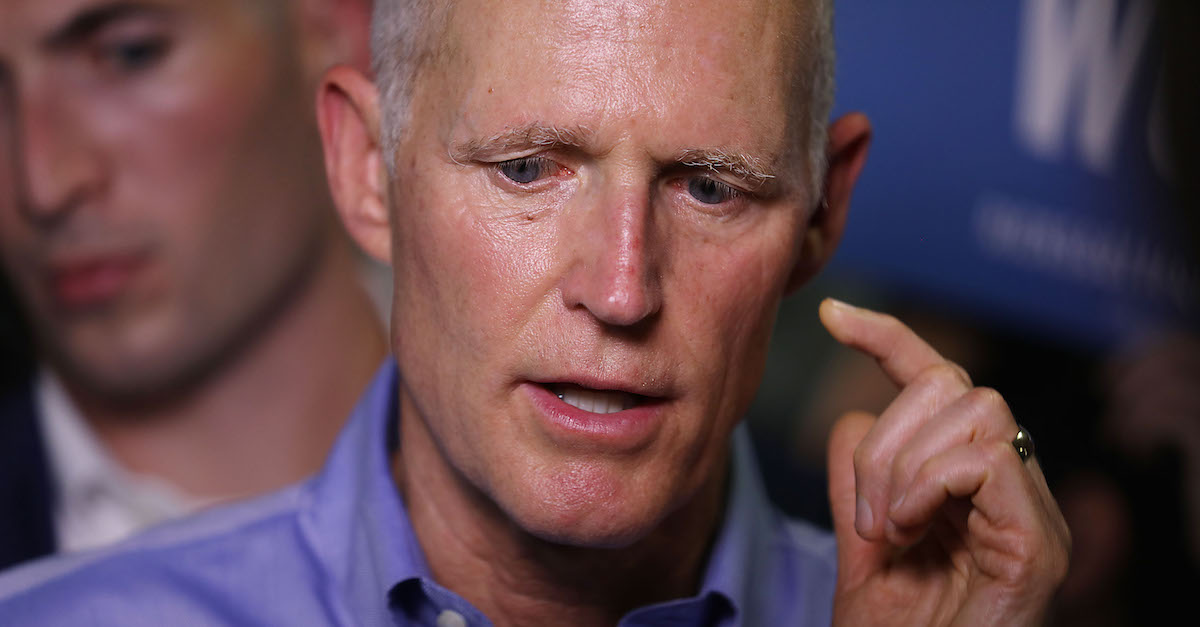 Florida's Republican Governor Rick Scott was sued on Monday by a coalition of voting rights groups over his role in the ongoing statewide recount of three undecided races. Those races are: the U.S. Senate race between Rick Scott and Democratic incumbent Sen. Bill Nelson; the gubernatorial race between Republican Rep. Ron DeSantis and Democrat Andrew Gillum; the agriculture commissioner race between Republican state Rep. Matt Caldwell and Democrat Nikki Fried.
Florida's League of Women Voters and Common Cause affiliated filed suit against Scott alleging the Sunshine State's governor illegally abused his power in order to achieve an electoral victory in the U.S. Senate race against incumbent Democratic Senator Bill Nelson. A third plaintiff is Floridian Joanne Lynch Aye, an absentee and vote-by-mail voter who believes that her vote may not have been counted.
The 21-page filing notes:
In recent days, Defendant [Rick] Scott has used the official powers of his office to interfere in the election to benefit himself and his political party and to intimidate the local officials and volunteers conducting the vote count. In light of the pervasive opportunities for the Defendant Scott to improperly exercise power over the US. Senate race, his continued interventions in the race violate the basic notion of fairness that no man should be a judge in his own cause. In doing so, Defendant Scott has violated the constitutional right of Plaintiffs' members and other Florida voters.
The plaintiffs continue on to allege specific crimes and violations.
"Being tasked with certifying the results of an election in which one is running for office poses a risk of bias under the best of circumstances. But Defendant Scott's efforts to use the authority of his office to advance his campaign and his political party have been extreme," the filing alleges. "His race is already close enough to be subject to a mandatory recount, and he has repeatedly threatened law enforcement intervention in the vote-counting process."
Since leading the vote tally by some 50,000 votes at the end of election day, additional ballots have come in that have narrowed Scott's lead to just under 13,000. A statewide recount is now mandatory in Scott's race as well as the state's gubernatorial and agricultural commissioner contests. Many of Florida's larger and urban counties are slow to count their votes, however, Scott and his allies took to the airwaves and the courtrooms to allege, without evidence, that Democrats were somehow attempting to manufacture votes or otherwise engage in criminal fraud in order to swing the election. These accusations were later dismissed by election officials within Scott's own administration.
But it's these exact outbursts from Scott and other high-profile Republicans that have the non-partisan voting rights groups concerned for the impartiality of the vote count and recount going forward. Notably, the initial votes cast by absentee ballots from active-duty military service members and other overseas voters cannot even begin to be canvassed until Friday, November 16–and as of this writing, some 40,000 such votes are believed to be extant.
"Defendant Scott has already misused his authority to influence and frustrate the high-stakes vote-counting process, and the powers of his office give him opportunity to continue to misuse his authority," the lawsuit says.
Specifically, the plaintiffs are suing Scott for "Deprivation of Due Process" in violation of the Civil Rights Act of 1871–a piece of Reconstruction Era legislation which was passed in order to protect, in large part, against the abuses of the Ku Klux Klan. The plaintiffs also allege a violation of Due Process under the Fourteenth Amendment. The lawsuit alleges:
Acting under color of state law, Defendant Scott has deprived Plaintiffs of rights, privileges, and immunities secured by the Constitution of the United States–namely the due process right to have an impartial official preside over an essential administrative function.
The plaintiffs also allege various violations of the Right to Vote and the First Amendment's Right of Free Association under the above-referenced statute and the Fourteenth Amendment.
The lawsuit requests declaratory relief and a temporary restraining order which would prohibit Scott from further exerting any power over the counting and recounting efforts currently underway.
Lawsuit filed against U.S. Senate candidate Rick Scott by Law&Crime on Scribd
[image via Joe Raedle/Getty Images]
Follow Colin Kalmbacher on Twitter: @colinkalmbacher
Have a tip we should know? [email protected]