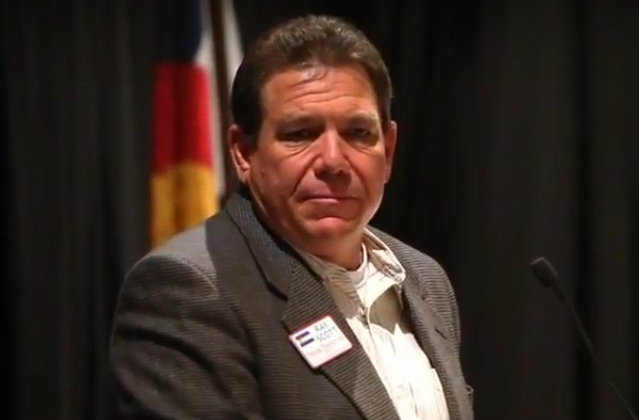 A Colorado newspaper might sue one state lawmaker over a tweet. On Saturday, Daily Sentinel Publisher Jay Seaton promised a defamation lawsuit against Senator Ray Scott because he said they ran "fake news."
In a Wednesday editorial, the paper demanded that Scott, who chairs a veterans and military affairs committee, allow an "open records" bill to get a hearing before the full Colorado senate.
Scott didn't like this.
We have our own fake news in Grand Junction..
The very liberal GJ Sentinel is attempting to apply (more: https://t.co/VYmpfgM6X9 )

— Ray Scott (@SCOTTFORCOLO) February 9, 2017
"The very liberal GJ Sentinel is attempting to apply pressure for me to move a bill," he wrote. "They have no facts, as usual, and tried to call me out on SB 40 know [sic] as the CORA bill. They haven't contacted me to get any information on why the bill has been delayed but choose to run a fake news story demanding I run the bill. You may have a barrel of ink but it just splashed in your face."
It's the "fake news" bit that motivated Seaton to answer back with another article published Saturday.
"Setting aside for the moment the mischaracterizations and mistakes in Sen. Scott's tweet, (though it is true we were not able to reach him about why he canceled the hearing) the concern for me is the allegation that the Sentinel peddles 'fake news,'" he wrote, later adding. "His tweet is patently, provably false. Worse, he made his false statement knowingly for the purpose of diminishing the only real asset this newspaper has: its credibility."
Now Seaton has threatened a defamation lawsuit. Scott, for his part, seems ready to fight any complaint.
Bring it on Jay, if you lie it blows back. NO ONE ever attempted to contact me..
A false character (more: https://t.co/monvzJzM86 )

— Ray Scott (@SCOTTFORCOLO) February 13, 2017
The promised complaint is still pending.
"We have not filed yet," Seaton told LawNewz in a statement issued Monday. "I intend to have a short cooling off period before we file. The response to this has been extreme, though fortunately entirely one-sided in our favor."
This fight definitely echoes Donald Trump's criticism of media coverage on his candidacy and presidency. Seaton even referenced the president in his article: "To borrow a phrase from another famous Twitter user, I'll see you in court."
First Amendment expert Floyd Abrams talked to us about Trump's media feud back in November. The attorney—who defended The New York Times in the Pentagon Papers case, and is father of Law Newz founder Dan Abrams—suggested that outlets should consider suing the president for defamation when applicable.
"The press is used to defending libel cases," he said. "That's a good part to what I've done in my career. So as to protect free speech and free expression as much as possible. I'm not seeking to move away from that. My plea is to bear in mind that one of the potential weapons is that when anyone—president or shoemaker—defames an entity, and speaks falsely and maliciously, one of the possible responses is to bring a libel suit."
Rachel Stockman contributed to this report.
[image of Sen. Scott via YouTube]
Have a tip we should know? [email protected]