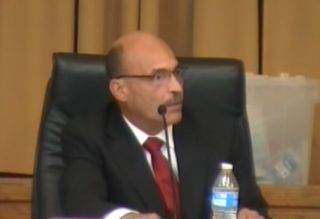 The new mayor of a Florida city wasn't eligible for office in the first place, according to his opponents in this year's election. George Rosario, Mayor of Groveland, won his election earlier this year against two opponents. After winning, however, his checkered past came to light. The Orlando Sentinel reported that Rosario was convicted of two felonies and a misdemeanor after selling cocaine to undercover officers in Pennsylvania in 1987.
One of the men Rosario defeated, Derek Schroth, says that Rosario's criminal record makes him ineligible to be mayor, according to the Florida Constitution. Indeed, Article VI, Section 4 of the state's constitution says, "No person convicted of a felony, or adjudicated in this or any other state to be mentally incompetent, shall be qualified to vote or hold office until restoration of civil rights or removal of disability." According to the Sentinel, Rosario never had his civil rights restored in Pennsylvania or Florida.
Schroth says that since Rosario isn't eligible to hold office, he needs to be removed. Rosario's other opponent in the election, Glen Wilson, called the mayor a "fraud," and said, "He needs to be gone."
Rosario already had questions regarding his past, after claims of his military service were contradicted by records. During his mayoral campaign, Rosario claimed to have 21 years of Army service, including a Purple Heart and two Bronze Star medals. Records that the mayor sent to the Sentinel, however, showed that he was only in the National Guard for six years, with one year of active military duty in Asia. He was eventually discharged with a disability.
In addition to the military claims, when Rosario ran for Groveland city council in 2010, he said in paperwork he submitted that he had served as the public relations director for the Southeastern Pennsylvania Transportation Authority. In reality, records showed that he was a bus driver for the agency from 1981 until 1988. Rosario lost his council bid that year.
The next time the Groveland city council is scheduled to meet is January 3. Schroth says that if Rosario does not step down as mayor before then, the council should take steps to remove him from office. LawNewz.com reached out to Rosario about this matter, and will update if he responds.
[Image via screengrab]
Have a tip we should know? [email protected]