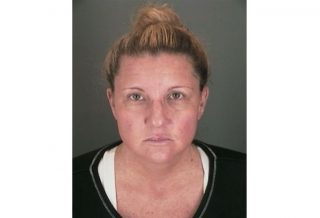 Suzette Ann Hall, known as the 'Topless Barber" of Longmont, Colorado, was charged for allegedly having multiple husbands. Police documents say that Hall is married to two men and romantically linked to a third, the Longmont Times-Call reported. This isn't Hall's first run-in with the law. Back in 2013, she was accused of offering topless haircuts and advertising on Craigslist. Her business partner at the time also told authorities that Hall admitted to using the business to have sex for money.
Longmont police were tipped off to Hall's multiple marriages when one of her husband's reportedly called them in October while trying to get his marriage annulled. He and Hall were married in August. Hall's second husband then told officers that the woman had fled to Wyoming where she ran a brothel.  That man had married Hall in 2015, but is now reportedly living in Montana.
Hall was first arrested for allegedly having two husbands in November when she was in Wyoming, but wasn't formally charged until Friday, after returning to Colorado. In addition to the bigamy charge, she was slapped with a bond violation. Hall was forbidden to leave the state of Colorado after being charged with practicing cosmetology and massage without the required licenses.
[Image via Boulder County Jail]
Have a tip we should know? [email protected]