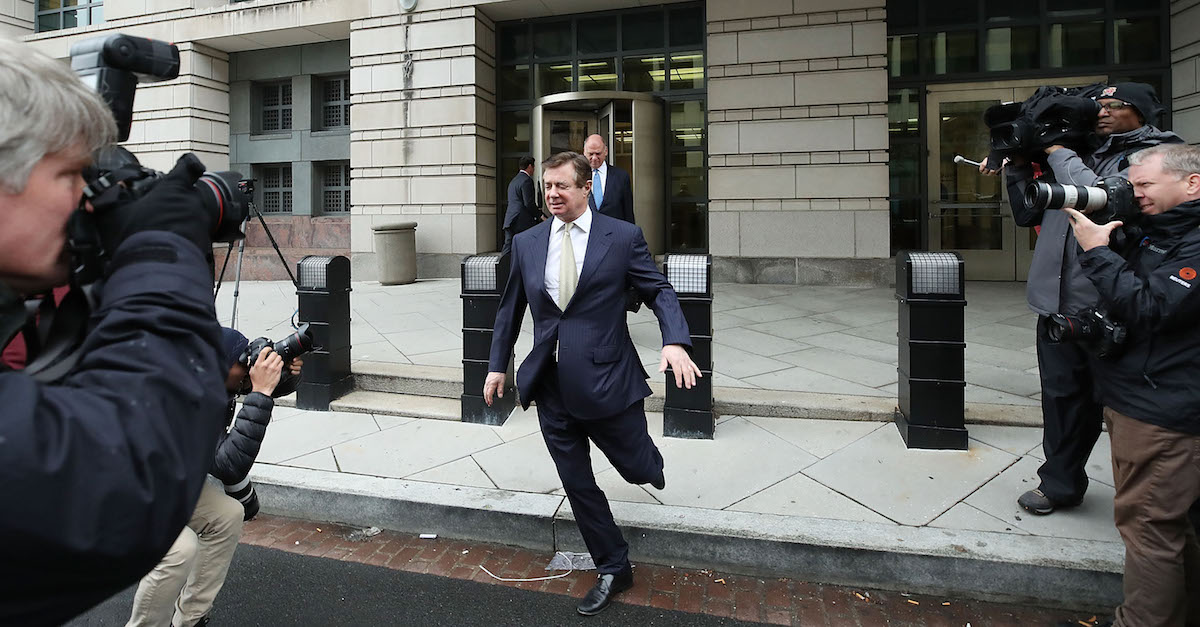 D.C. District Judge Amy Berman Jackson ruled Friday that former Trump campaign chairman Paul Manafort should be jailed after allegedly attempting to tamper with witnesses while he had been granted a pretrial release.
New evidence of communication practices were introduced by one of Special Counsel Robert Mueller's attorneys to help seal Manafort's fate until trial in D.C. In light of the judge's ruling, it appears these were persuasive. In fact, the judge specifically pushed back against Manafort's attorney Richard Westling when he questioned prosecutor Greg Andres' evidence, BuzzFeed News reported.
Andres produced evidence that Manafort used encrypted messaging apps like WhatsApp and did something known as "foldering."
"Foldering" is when multiple people access a draft of an email to no one in particular to hide the identity of the person/people it is for.
He also said Manafort made a phone call on February 24 to one a witness in which Manafort asked for a "heads up" about the "Hapsburg group," which Mueller has called "a group of former senior European politicians to take positions favorable to Ukraine, including by lobbying in the United States." The witness said he hung up on Manafort and said he couldn't talk.
Westling responded to Andres that a lot of people (more than a billion) use WhatsApp.  He also said that there was no evidence Manafort tried to tamper. The judge responded that Westling was "somewhat understating what we have."
"I cannot turn a blind eye to these allegations … You have abused the trust placed in you six months ago," she said to Manafort.
The new indictment that led to this result said that FBI Special Agent Brock W. Domin's testimony and evidence would show that Manafort attempted to tamper with witnesses. Domin said that at least one witness said Manafort tried to influence or "coach" the story on lobbying methods and practices.
Konstantin Kilimnik was recently and newly named along with Manafort in the attempted witness tampering indictment. He allegedly worked for Davis Manafort Partners International and acted in concert with Manafort and Rick Gates in their work for the Ukrainian government.
Berman Jackson ruled Friday that Manafort will have to go to jail until his trial for alleged money laundering and acting as an unregistered foreign agent related to work he did for the Ukrainian government.
The two sides met in federal court on Friday to plead their cases for whether or not Manafort should remain under house arrest or go to jail until his trial. Manafort pleaded not guilty to the charges in the superseding indictment that added the obstruction and conspiracy charges.
Manafort's trial is currently scheduled for September. He also faces a related trial in the Eastern District of Virginia (EDVA) court. That case, which focuses on alleged bank and tax fraud in connection with money earned for his Ukraine work, is scheduled for July.
Ronn Blitzer contributed to this report.
[Image via Mark Wilson/Getty Images]
Have a tip we should know? [email protected]