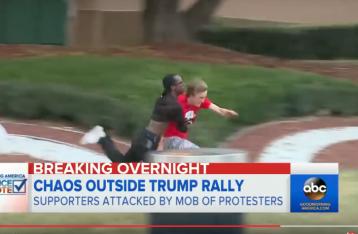 Newly released law enforcement records shed new light on police response amid the chaos brought on by agitators outside the San Jose Convention Center at the end of a Donald Trump campaign rally last week.  The new records include statements from plainclothes, undercover officers who admitted fear for their own safety left them helpless to watch as an estimated 400 agitators with a "mob mentality" had Trump supporters "running for their lives."
The documents were included in the file of the single person to be charged thus far as a result of the violence that occurred outside the Trump rally on the night of June 2, 2016, according to the San Jose Mercury News.  Antonio Moses Fernandez, 19, of San Jose, is charged with multiple offenses, including felony assault on a police officer, according to court documents obtained by the paper.  San Jose prosecutor Chris Boscia's decision to prosecute Fernandez was clearly due to the fact that it includes an allegation of an attack on an officer.
"When there's an assault on a police officer, we don't have any tolerance for that," prosecutor Boscia told the newspaper.
The Fernandez documents also give the public a firsthand account of observations from officers stationed outside the civic center, including what they saw happening to Trump supporters as they left the rally that day at the hand of anti-Trump agitators.
The documents show one officer, who was working in plainclothes outside the convention center, observed the following:
[T]he crowd throwing rocks, cones, signs, and other objects at the police. Protesters lit signs and hats on fire in the middle of the street while they kicked cars and broke car windows. I watched several individuals wearing "Trump" articles of clothing, get punched, kicked, and pushed. Due to the crowd size and volatility, officers (both uniform and plain clothes) were unable to help most victims (emphasis added).
A second statement given by a plainclothes officer, assigned to the "Covert Response Unit," states San Jose Police along with "other allied agencies" developed a plan to strategically place crowd control officers around the anticipated hotspots surrounding the Trump Rally.  This officer's statement says a plan was developed due to agitators disrupting Trump Events across the country recently.  However, reading his account, it appears that things did not go as planned:
As the time came close to 1800 hrs, more protesters arrived, mostly younger males and females between the ages of 14 to 25…. [S]ome began burning the United States flag in the middle of the street. It became inherently dangerous for anyone wearing a t-shirt or hat in support for Trump. I observed Trump-supporters being spit on, objects being thrown at them, punched, kicked , and even robbed of their personal belongings. In these instances, I observed victims running for their lives because protesters began adopting the mob mentality and attacking people. I was unable to make contact with any of these victims due to my undercover capacity and for my safety as well (emphasis added).

Nearing the end of the rally, I observed Trump-supporters leaving the rally just south of the Marriot Hotel. Anyone holding a sign in support for Trump were immediately antagonized by protesters. Protesters armed themselves with eggs, bottles, rocks and newspapers and threw items at Trump-supporters. I also observed anyone wearing the American flag or a prtnted American flag were being confronted in an aggressive manner. It was my belief the protesters associated the American flag as a Trump-supporter (empahsis added).

As Trump-supporters began to dissipate, the protesters began jumping on
cars, chanting different messages. Some were still denouncing Trump, some involved the Black Lives Matter movement, and some just didn't make any sense at all. (emphasis added).
The Santa Clara County District Attorney's Office on Wednesday morning told the Mercury News prosecutors are reviewing the cases of six other individuals arrested outside the rally and will make a charging decision soon. Of the six other individuals arrested outside the rally, four of them (including two of whom are minors) were arrested for felony assault with a deadly weapon.  Two other individuals, including an additional minor, were arrested on lesser charges.
The report continues that not one of these six individuals have been charged with crimes as of Wednesday morning.   This is true despite television and social media cameras capturing some of these alleged criminal actions on videotape — not to mention the officers' narratives included in this article. Although, it is beginning to appear as though some progress is being made.
On Thursday, the San Jose Police Twitter account requested the public's help in identifying these individuals in connection with the chaos outside the Trump Rally:
SJPD looking to ID and locate 2 add'l suspects responsible for assaults at rally from last Thursday. Ph#408-277-4161 pic.twitter.com/oulw9dVjIL

— San Jose Police Dept (@SanJosePD) June 9, 2016
This is an opinion piece. The views expressed in this article are those of just the author.