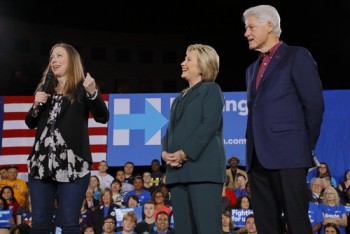 A Hillary Clinton campaign volunteer's Gmail account was apparently breached by the hacker who calls himself 'Guccifer 2.0,' according to a new report on Tuesday.  The newly revealed emails show how hard staffers worked to keep the press away from Clinton at two campaign events earlier this year.
The Smoking Gun reports they have received new emails that appear to be from the Gmail account of Clinton campaign volunteer Sarah Hamilton.  According to the report, Hamilton is a former spokeswoman for Chicago Mayor Rahm Emanuel and works as a volunteer for the Clinton campaign's press operations team.
One of the hacked email chains revealed on Tuesday reportedly stems from a Clinton campaign event in Las Vegas in February where Hillary, Bill and Chelsea Clinton all appeared together.
Prior to the event, the emails show campaign staffers discuss how to keep the press away from the three Clintons as they were expected to work the rope line after the event.  Sarah Pollack, a staffer on the "National Press Advance Desk" wrote, "Press have been politely yet firmly asked to stay in press areas but we should expect press and cameras to move forward for [rope line]."  One staffer suggested the rope line should be "covered with staff bodies to make sure the crowd can get to the [rope line] and you stay in front of the cameras."
TSG report also notes how the "rope line platoon" constantly monitored the movements of certain journalists, including a CNN producer named Dan Merica:
"Watch out for Dan Merica center right," a press aide warned. Eight minutes later, an advance team member wrote, "Dan Merica stage left." A minute later Hamilton advised colleagues, "French journos and Dan Merica heading to stage right." Moments later, a new Merica update came from an advance team member: "Dan Merica is on backstage bleachers." Less than a minute later, the staffer gave an update: "I'm with Dan Merica on back stage bleachers."
The report adds, "It appears Merica was being secretly tracked by campaign workers concerned that the CNN employee might detonate a question if he got too close to any of the Clintons."
At a campaign event in March, it was Chicago Sun-Times D.C. bureau chief Lynn Sweet that found herself in the crosshairs of the press operations team.
Nick Merrill, traveling press secretary for the campaign, sent Hamilton an e-mail with a subject line that read, "Lynn Sweet" and the message said, "Let's keep an eye on her."
Hamilton replied that she had it covered, "Yes. I'm sitting next to her on the bus."
TSG claims to have received the emails from "Guccifer 2.0" but authorities reportedly believe Hamilton was caught up in the same operation run by the Russian government that also breached the DNC systems.    In a recent interview, Guccifer 2.0 claimed to be a lone hacker and denied any affiliation with the Russian government.  However, the cybersecurity firm SecureWorks issued a report  earlier this month that stated the Russian government had been targeting Gmail accounts associated with staffers for Hillary for America.
Have a tip we should know? [email protected]