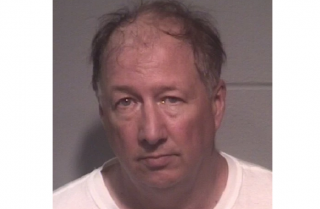 Edward "Ellis" Rollins III, the state's attorney for Cecil County, Maryland, was arrested on Wednesday for indecent exposure, but he was released without being charged, thanks to his counterpart in Worcester County, the Washington Post reported. After a local blogger found out about this, contacted the Worcester County state's attorney, and wrote an article about the case, Rollins was finally charged on Monday.
It all started when Rollins, 60, was the keynote speaker at a conference for the Maryland State's Attorneys' Association. Rollins was staying at the hotel where the conference was held. According to an article by blogger Joe Albero, witnesses claim they saw Rollins masturbating and engaging in sexual acts with a female in Rollins' hotel room, but in public view on the balcony or behind a glass door, while Rollins was completely naked. After multiple alleged sightings over the course of two days, a woman notified a police officer. When the officer saw the chief prosecutor in all his glory, he arrested him.
No charges were made against Rollins at the time though, and he was released.
According to Lindsay Richard, a spokeswoman for the Ocean City police, officers responded to "a report of a nude male on a balcony," at the hotel.
"The officers located the room in question and ultimately took Edward D. Rollins III into custody for disorderly conduct and indecent exposure," but after Worcester County State's Attorney Beau Oglesby gave them instructions, police "were advised to release Rollins without charges pending further investigation."
Albero, who received tips about Rollins' alleged behavior from witnesses, prepared his article before calling Oglesby and accused him of covering up Rollins' actions and arrest. After Oglesby told him that he was still deciding whether to charge Rollins, Oglesby posted his story. Albero told the Post, "if I hadn't published the story, nobody would've known it happened."
On Saturday, the Balitmore Sun reached out to Oglesby, who said he didn't want to rush the investigation. On Monday, he charged Rollins with four misdemeanors, two counts each of indecent exposure and disorderly conduct.
In a phone conversation with a local newspaper called Cecil Whig, Rollins said that Oglesby "has not heard my side of the story," and said, "I am confident when that happens, my name will be cleared."
Rollins, who is a nominee for a Cecil County Circuit Court judge position, according to the Maryland courts website, faces up to three years in prison and a $1,000 fine.
Have a tip we should know? [email protected]