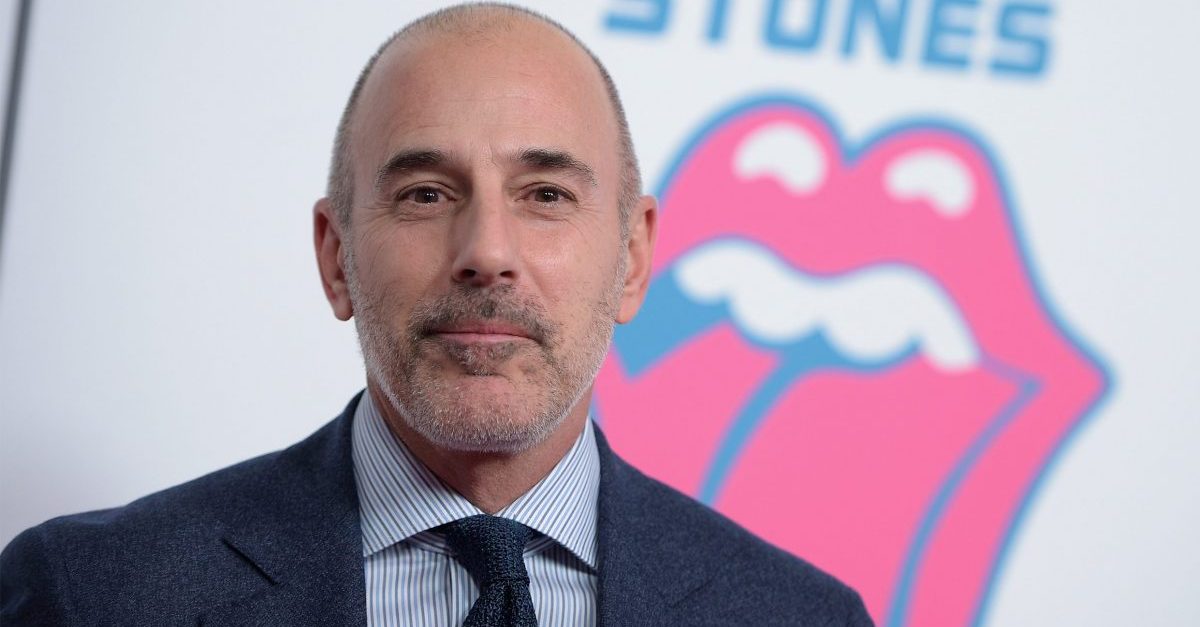 What you are about to witness, ladies and gentlemen, is a positively acrobatic demonstration of ass-covering, executed with all the ease and grace of an institution that is well-practiced.  NBC finished its internal investigation into Matt Lauer's alleged sexual misconduct, and officially concluded that it was shocked. The report "confirmed" that no women reported sexual encounters with Lauer, that no one ever complained about Lauer, and that the Today Show set was as G-rated as Sesame Street.
Honestly, these publicized internal "investigations" are pretty absurd. I mean what's a company going to do, call the AP and say, "it turns out, we are a total disaster and have been breaking laws left and right"? Such a move might be truthful, but would be catastrophically stupid. And while we all love a good mea culpa, corporations have a legal duty not to be cavalier with shareholders' money or employees' jobs.
Legally speaking, an official finding (and I say "official" here with the largest of air quotes, since NBC conducted this investigation itself instead of hiring an outside auditor), that a company knew of a problematic work environment could have consequences for decades to come. Such an admission would open the company up to new lawsuits, to punitive damages, and to disastrous headlines.  Kim Harris, NBCUniversal's general counsel who led this investigation, would certainly have known that, and would likely have done her best to mitigate the effect of any findings of wrongdoing for her client.
I also enjoyed the savvy statement made by news division chairman Andy Lack, in which he said:
"But – stepping back from the investigation – that history also includes a time when people were not comfortable coming forward to voice complaints about repugnant behavior. That is not acceptable. We cannot change the past. What we can do is learn from it, and try to make it right. We have already begun to turn the page to establish a safer and more respectful environment. That requires strong, specific steps in a sustained manner to transform the culture."
Bringing up the timing is important. Lack is drawing out the blueprints for NBC's defense – that pre-#MeToo, things were different, and that juries of today need to take a mental trip back in time and remember how shocked we all were to learn that powerful men couldn't keep it in their pants.
I'm also somewhat intrigued by some of the language of NBC's report. According to the report, some of Lauer's coworkers knew Lauer was a cheater with a troubled marriage, "but those witnesses believed, with limited exceptions, that the rumored extramarital affairs were with women outside of the Company." Let's talk for a minute about those "limited exceptions," shall we? That means that there was a staffer or two who admitted that s/he did believe Lauer had a sexual relationship with coworkers.
Time for a check-in with common sense. Let's say one person at NBC believed Lauer was screwing one of his coworkers. True or not, consensual or not, that sure would be a juicy story. Are we to believe that this one person simply stayed silent about his or her belief? Given Matt Lauer's high profile, that seems incredibly unlikely.
As anyone familiar with these cases would expect, NBC did its level best to keep up a public face of shock over the Lauer accusations. I don't know what Lauer did or didn't do, or what NBC knew or didn't know; what I do know is that this report doesn't come close to convincing me that NBC isn't liable for the lawsuits that are undoubtedly coming its way.
[Image via Jason Kempin/Getty Images for for The Rolling Stones)]
This is an opinion piece. The views expressed in this article are those of just the author.
Elura Nanos - Columnist & Trial Analyst, Law & Crime; CEO Lawyer Up