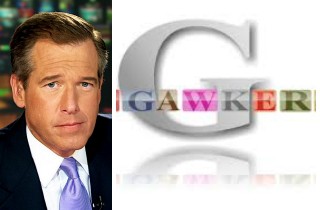 A lawyer for Hulk Hogan played media coverage in court of Gawker's publishing of a 2012 e-mail by then-NBC anchor Brian Williams.
Williams (who is now on MSNBC after, uh, developments) wrote Gawker founder Nick Denton, not only saying he loved the infamous news site, but even recommended a story: that maybe they should've covered singer Lana Del Rey's apparently terrible musical performance on Saturday Night Live. He called it "one of the worst outings in SNL history." So Gawker went ahead and published his letter online. NBC went into damage control mode—remember which network SNL is on—and privately asked the people at Gawker to please take the e-mail down.
"That was sent in confidence as friends and absolutely never intended to be public." NBC's PR team wrote. And that second e-mail was then posted to Gawker as an update to the first. (Our sister site Mediaite felt that email was quite telling about Williams as well.)
Hogan (real name Terry Bollea) is suing the news outlet after they published a sex tape with him and the wife of his then-best friend, shockjock Bubba "the Love Sponge" Clem. The trial began Monday morning with Hogan's lawyer arguing they did it knowing that it would cause him real harm. (You can watch a live stream of Monday's hearing.)
It might be a surprise to hear Williams referenced in the trial, but his story is in line with the statement that Hogan's lawyer was making: that Gawker has long been reckless and self-serving when it comes to private communication. It actually came out as part of a segment on Williams' own show 30 Rock where Denton seemed to brag about how willing they were to push boundaries and disregard typical journalistic rules.
In a statement, Gawker says Hogan had no realistic claim to privacy since he was a public figure and often spoke openly about his sex life in books and media appearances. The First Amendment allowed them to publish the sex tape, Gawker claims. You can read the full statement below.
Statement from #Gawker Media on #HulkHogan trial which begins this morning. pic.twitter.com/IkH7Ewhj4H

— Mary Georgantopoulos (@marygeorgant) March 7, 2016

–
Follow Alberto Luperon on Twitter (@Alberto Luperon)
Have a tip we should know? [email protected]