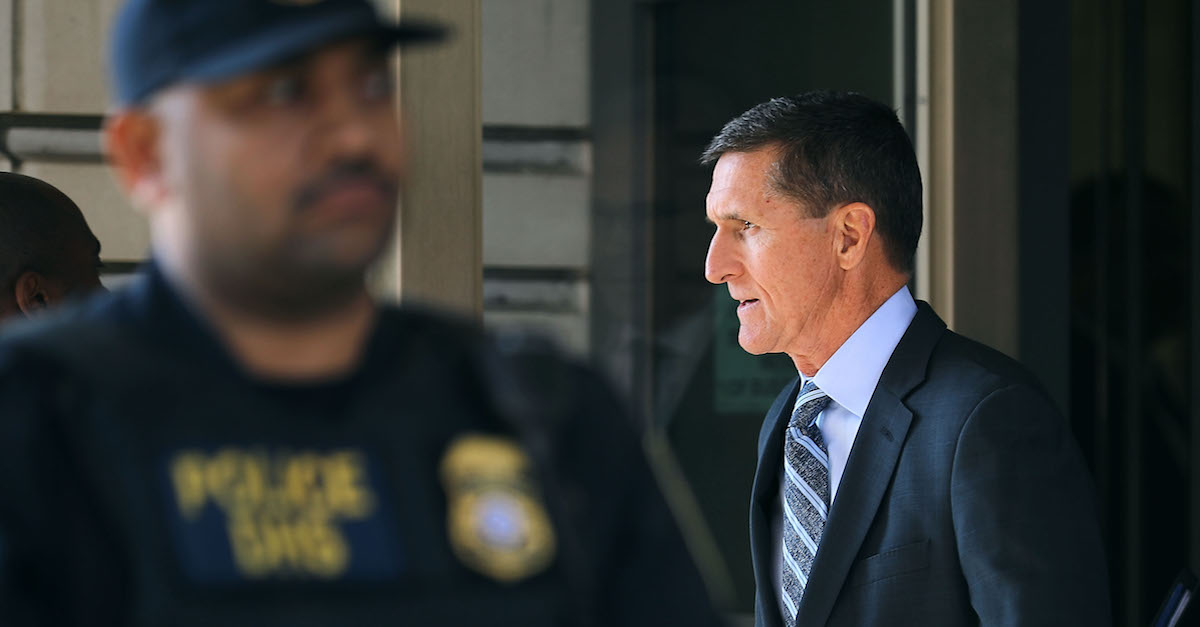 A joint status report filed Tuesday by Special Counsel Robert Mueller and fired Donald Trump national security advisor Michael Flynn's legal team reveals that both parties, "due to the status of the Special Counsel's investigation," are asking for a a sentencing date to be moved past June.
Flynn, you may recall, was charged in Dec. 2017 for "willfully and knowingly [making] false, fictitious and fraudulent statements" to the FBI about conversations he had with Russian ambassador to the United States, Sergey Kislyak.
Flynn pleaded guilty to lying to the FBI.
The line of Tuesday's filing most are keying in on is highlighted below.
"Due to the status of the Special Counsel's investigation," Robert Mueller doesn't want Michael Flynn's sentencing date to be set until after June. pic.twitter.com/MIsKGnQTGE

— Katelyn Polantz (@kpolantz) May 1, 2018
It says: "Due to the status of the Special Counsel's investigation, the parties do not believe this matter is ready to be scheduled for a sentencing hearing at this time."
The parties were ordered to file another joint status report no later than June 29, "stating whether the matter should be scheduled for sentencing or whether a deadline should be set for another joint status report."
That's two months of extra time.
You can read the joint status report filing and the accompanying order here.
What does this mean?
The way investigations like this one work makes such a delay standard operating procedure for cooperating witnesses. Flynn won't be sentenced until he is no longer needed — that is, until his cooperation with Mueller's investigation ends or the last person Flynn would be testifying against is sentenced.
Former federal prosecutor Bill Thomas told Law&Crime that this news most likely means Flynn is "still cooperating" with Mueller's investigation.
"The continuance of Michael Flynn's sentencing most likely means that he continues to cooperate, and that the government is not yet ready to reward that cooperation," he said.
Thomas would add that it's hard to know at this point who else this might be bad news for.
"It's hard to say who this is 'bad news' for, as we don't know the scope of his knowledge and potential wrongdoing and who is a target of the special counsel," he said.
[Image via Chip Somodevilla/Getty Images]
Have a tip we should know? [email protected]