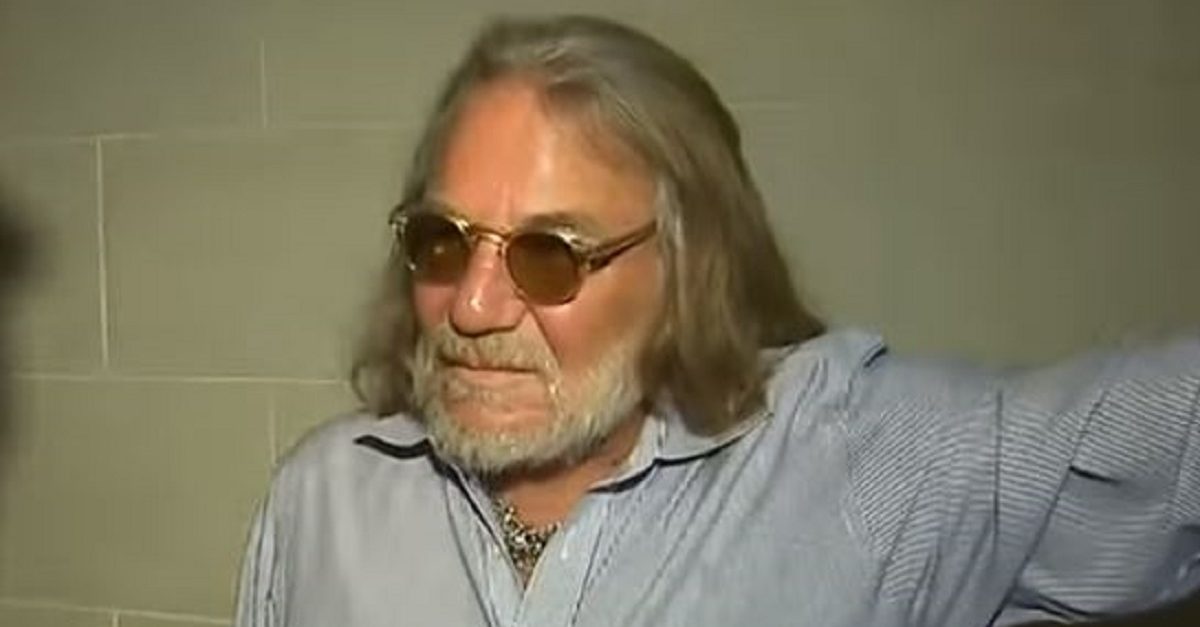 Dr. Harold Bornstein, the physician who famously gave President Donald Trump an "astonishingly excellent" health assessment, now claims that people representing Trump stormed into his office and took off with his files on Trump.
Bornstein told NBC News that the "raid," as he called it, took place on Feb. 3, 2017, days after a news report came out featuring a disclosure from Bornstein that he prescribed the hair growth medication Propecia to Trump.
This, of course, raises the question: if they're Trump's files and he directed the men to get them for him, is it illegal?
The answer is that such actions appear to violate a whole bunch of laws, but the details depend on which ones.
Bornstein says that the individuals who went into his New York office were former Trump bodyguard Keith Schiller, Trump Organization lawyer Alan Garten, and unidentified "large man." He claimed that they entered his office, took Trump's charts and lab reports without permission, and left.
Garten declined NBC's request for comment. The White House and Schiller did not respond. The NYPD also informed Law&Crime that they do not have any complaints on file regarding these allegations.
If the allegations are true, however, they would appear to make out a case for burglary, which is defined as when a person "knowingly enters or remains unlawfully in a building with intent to commit a crime therein." According to Bornstein's account, it doesn't seem like the men had permission to be there, the "crime therein" would be theft of the doctor's files. Even though they are Trump's medical records, Trump does not own them, so he can't just send people to fetch them.
At the very least, it would be larceny for stealing the files, if Bornstein allowed them into his office — which likely allows people to come in off the street — and didn't specifically tell them to leave.
Then there's the issue of Trump himself. If he instructed people to carry out a raid like this (the NBC report did not indicate that he did), he could potentially be charged with conspiracy.
The situation is even more complicated given the nature of what was allegedly stolen: private medical records. Such documents are covered by HIPAA, which strictly prohibits the unauthorized release of medical information. Bornstein claims that the men who raided his office did not provide any such release.
A source told NBC News that they did provide a letter from then-White House doctor Ronny Jackson, but they didn't know whether there was a HIPAA release with the letter. Even with an attached release, however, that wouldn't permit Trump's representatives to just storm in and take files, which — as stated above — don't belong to him.
HIPAA does allow individuals or their personal representatives to view or receive copies of their medical records. If Trump appointed Schiller, Garten, or the other man as his personal representative, they'd be able to view records, but they still would not be allowed to take the only hard copies from Bornstein's office, as the doctor alleges.
Jackson, of course, is the same man Trump nominated to head the Department of Veterans Affairs, only to withdraw amid allegations of professional misconduct. Bornstein had reportedly expressed interest in being Trump's White House doctor in the past, but was turned down.
Bornstein said the recent news about Jackson is what led him to talk about the alleged raid now.
"This is like a celebration for me," he said. There is definitely more to this story, we think.
[Imag via CNN screengrab]
Have a tip we should know? [email protected]