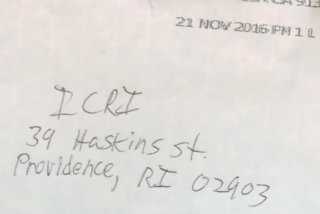 Over the weekend, news broke of a threatening letter sent to a San Jose, California mosque, which appeared to be an unfortunate but isolated incident. That turned out not to be the case, as the Associated Press reported late Wednesday that identical letters, all with Los Angeles postmarks, have shown up at five other mosques in California as well as Denver, Colorado, Savannah, Georgia, Indianapolis, Indiana, Ohio, Ann Arbor, Michigan and Providence, Rhode Island. The Los Angeles Police Department is investigating the letters as part of a hate incident, but not necessarily a "hate crime" because the letters don't contain direct threats.
The return address says the letter is from a "Reza Khan," a Muslim name.
The handwritten and photocopied letter boasts that "Your day of reckoning has arrived" because "There's a new sheriff in town — President Donald Trump. He's going to cleanse America and make it shine again. And, he's going to start with you Muslims." The part that has gotten the most attention is when the letter writer says that President Election Donald Trump is "going to do to you Muslims what Hitler did to the jews [sic]." The letter also suggests that "you Muslims would be wise to pack your bags and get out of Dodge" before declaring that "This is a great time for Patriotic Americans. Long Live President Trump and God bless the U.S.A."
The FBI says it is not yet investigating due to the lack of a specific threat that the LAPD cited.
[Photo: WPRI-TV screen grab]
Have a tip we should know? [email protected]