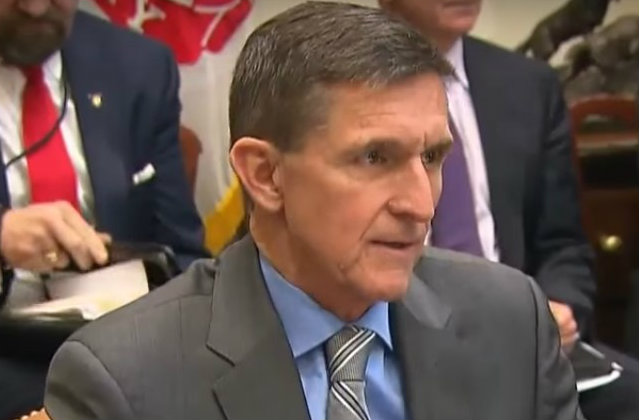 Michael Flynn appears to have paid consultancy fees to the same FBI agent who claimed the State Department tried to bury an email connected to Hillary Clinton and Benghazi. That became apparent in a March 7 filing with the Department of Justice: Flynn registered his firm, the Flynn Intel Group, as a foreign agent of a Dutch firm connected to the Turkish government—work he did during the presidential campaign. An Al-Monitor reporter highlighted that detail after a Daily Caller report from Thursday.
according to his FARA filings, Flynn paid the ex FBI official Brian McCauley $28,000 btw Oct & Dec. 5 2016. https://t.co/V84H5RqHON 2/

— Laura Rozen (@lrozen) March 10, 2017
Flynn paid McCauley $5k Oct.4, $3k Oct.13, $5k Nov.14, and $15k Dec.5, after he'd already been designated Trump NSA https://t.co/V84H5RqHON

— Laura Rozen (@lrozen) March 10, 2017
The agent, Brian McCauley, told The New York Times in October that a State Department official, Patrick Kennedy, asked him to classify an email connected to the 2012 attack on Benghazi, Libya. He said this conversation happened in spring 2015, shortly before his retirement. We've reached out to him for comment and to figure out more about what the payment was for. At the time, Kennedy told the Times that they did in fact talk, but there was nothing improper about the conversation. He only wanted to have parts of the email redacted since it was linked to an ongoing investigation.
The attack on a diplomatic compound and CIA annex left four Americans dead. In the aftermath, then-Secretary of State Clinton fielded bad press, Congressional scrutiny over security lapses, and a defamation lawsuit. It was a long-running subject on right-leaning news outlets, so obviously, the idea of an official asking an FBI agent to bury relevant information was a big deal since Clinton was running for president.
However, Flynn himself was campaigning on Donald Trump's behalf, and his work got him a job as the National Security Advisor. He resigned from that position in February after misleading administration officials, including Vice President Mike Pence, about a telephone call he had with Russian ambassador Sergey I. Kislyak. U.S. intelligence officials reportedly said that Moscow directed hacking efforts to help Trump win the election. However, no one has been able to prove collusion between the Kremlin, and the president's campaign, so the revelation of Flynn's phone conversation wasn't the greatest thing for an already embattled administration. On top of that, Flynn has only now revealed that he did work for a Dutch firm connected to the Turkish government, and only publicly disclosed this on the March 7 filing.
Correction – Nov. 5, 12:42 p.m.: The previous version of this article incorrectly stated that Flynn registered his firm as an agent of Turkey.
[Screengrab via Fox News]
Have a tip we should know? [email protected]