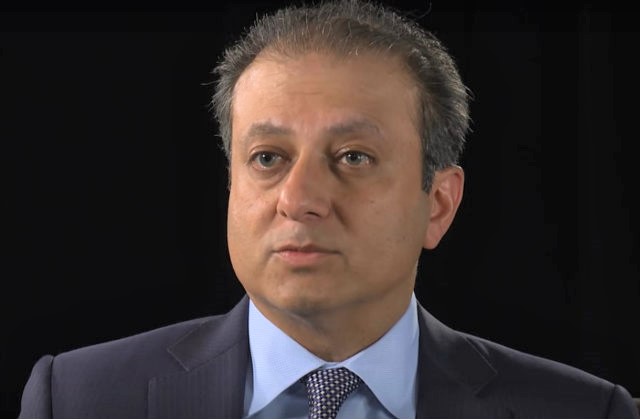 Preet Bharara, an Obama-appointed official, was fired after reportedly refusing to resign. He made the announcement in a Saturday afternoon tweet.
I did not resign. Moments ago I was fired. Being the US Attorney in SDNY will forever be the greatest honor of my professional life.

— Preet Bharara (@PreetBharara) March 11, 2017
That comes after reports that he refused to resign.
HOLDOVER: Bharara is not submitting his resignation, according to several ppl briefed – WH not responding to what they'll do next.

— Maggie Haberman (@maggieNYT) March 11, 2017
Friday, Attorney General Jeff Sessions asked all remaining 46 U.S. Attorneys from the previous administration to leave their jobs. That request is very typical when a new president strolls into Washington, but the announcement might have been a surprise to Bharara, the U.S Attorney for the Southern District of New York. In November, he said the president asked him to stay.
A Department of Justice spokesperson declined to talk about it when we reached out for comment. We've also contacted the White House, but have yet to hear back.
Bharara has served since 2009, and made a name for himself as an aggressive prosecutor. For example, his office got disgraced former New York Assembly Speaker and Democrat Sheldon Silver a 12-year prison sentence on corruption charges.
Bharara had next-to-no leverage in this matter. U.S. Attorneys are appointed for four-year terms, and confirmed by the Senate. And the president can always just rid of them, as Trump just did.
This isn't the first public dispute between the new Administration and an Obama holdover. The president fired Acting Attorney General Sally Yates in late January after she refused to defend his controversial executive order on seven Muslim-majority nations (aka the Travel, or "Muslim," ban).
Update – March 11, 2:40 p.m. EST: He was fired. We added the tweet in which he announced it.
[Screengrab via WMHT]
Have a tip we should know? [email protected]