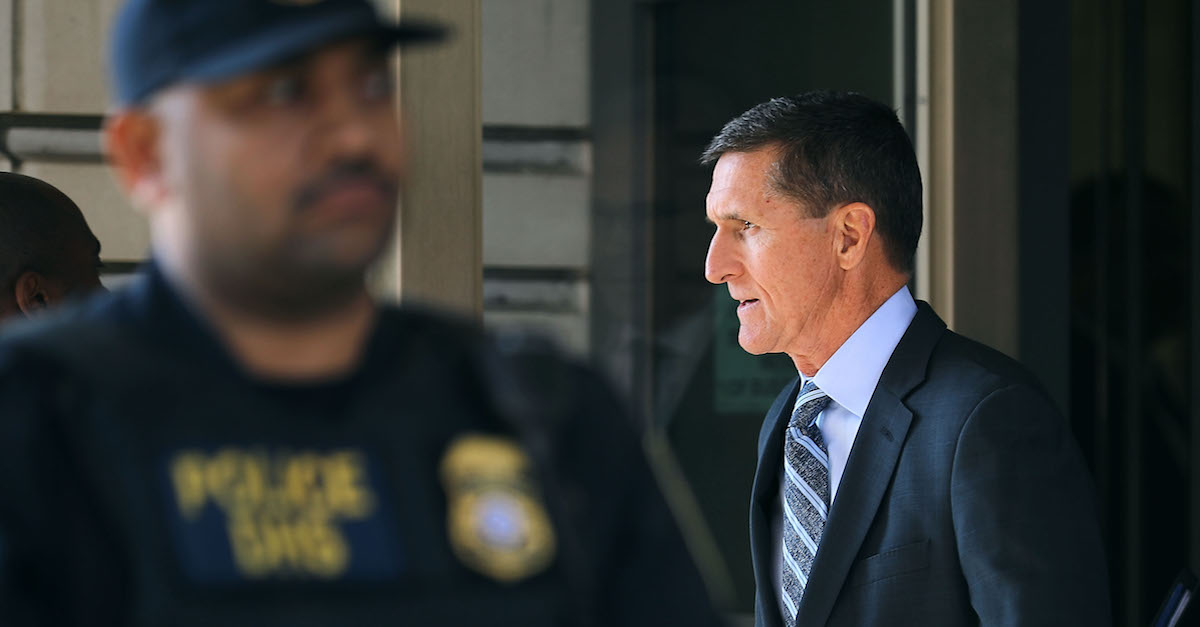 Special Counsel Robert Mueller filed his sentencing memo in the case of former National Security Adviser Michael Flynn Tuesday night. While much of the memo and its accompanying addendum were either redacted or based on information already made public, two things were made perfectly clear: 1) Mueller's Russia probe was just one of "several" investigations Flynn helped with, and 2) Mueller is very happy with Flynn right now. The revelation of these mystery investigations could be the most important takeaway from the memo so far.
"The defendant has assisted with several ongoing investigations," the addendum said. In describing what they are, the first phrase was "a criminal investigation," before nearly a full line of redacted text. Next was "the Special Counsel's Office's ("SCO") investigation concerning any links or coordination between the Russian government and individuals associated with the campaign of President Donald J. Trump," followed by about one and a quarter lines of more redactions. Assuming each redacted portion was in reference to at least one investigation, that means that Flynn helped with at least two unknown investigations besides Mueller's Russia probe.
This was not lost on legal expert Ross Garber, who speculated that what we don't know about the mystery criminal investigation could be the most important piece of the memo.
2/ Flynn provided info on an investigation separate from Mueller's. The entire text about that investigation is blacked out. Mueller doesn't want us to know what it is about or who it involves. I think this is probably the biggest deal here. (Let the speculation begin.)

— Ross Garber (@rossgarber) December 5, 2018
A discussion of Flynn's assistance in the mystery criminal investigation included roughly a page of redacted text. A section on the SCO's Russia investigation revealed some of Flynn's help regarding the Trump transition team and Russia. There appear to be at least two redacted headings for redacted sections after this. It's unclear how many of them deal with the Russia probe.
Whatever it is that Flynn said, it's clear that Mueller liked it. Not only did he draw notice to how soon into the investigation he agreed to cooperate, but he also pointed out how valuable his cooperation has been.
"The defendant deserves credit for accepting responsibility in a timely fashion and substantially assisting the government," the memo states. "As described in the Addendum, shortly after the SCO reached out to the defendant to seek his cooperation, the defendant accepted responsibility for his unlawful conduct and began cooperating with the government."
That substantial assistance led Mueller to recommend a light sentence. Garber called this "one of the most favorable memos" like this he's ever seen.
3/ Finally, this is one of the most favorable memos like this I've seen for a defendant. It is clear that the government thinks Flynn stepped up big.

— Ross Garber (@rossgarber) December 5, 2018
So who could be the target of the mystery investigations? Unclear. We do know that Mueller has referred information to the Southern District of New York, including the criminal investigation of Michael Cohen that led to his guilty plea for campaign finance violations, as well as bank and tax fraud. Another possibility is the reported investigation of the Trump Foundation for possible campaign finance violations.
With Flynn providing enough valuable information that Mueller feels it's enough for him to finally be sentenced, one can only speculate as to what will come next in he Russia probe, or the other investigations.
[Image via Chip Somodevilla/Getty Images]
Have a tip we should know? [email protected]