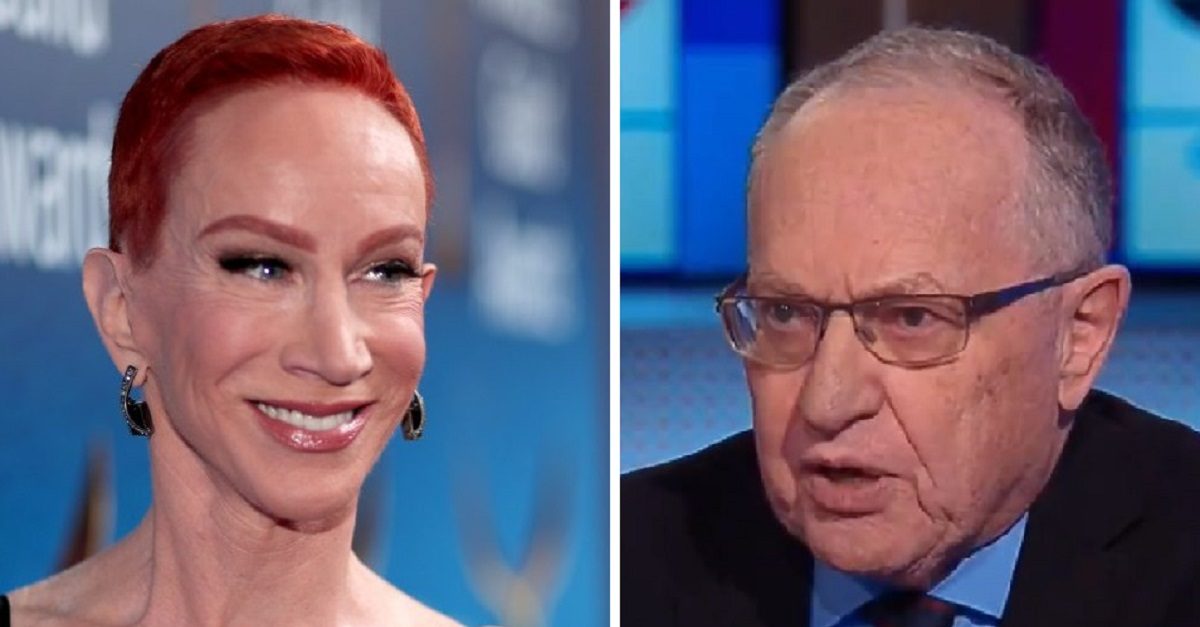 The latest Twitter feud heating up the internet may not be what you expected. It all started on Tuesday, when television personality Kathy Griffin tweeted a Wall Street Journal piece that Dershowitz penned about Special Counsel Robert Mueller's anticipated report in the ongoing Russia investigation. The piece was about how the report will likely be one-sided, given that it's coming from prosecutors, and that Trump should be able to submit his own report. Suffice to say that Griffin was less than sympathetic.
"Trump can respond from prison," Griffin said. She then made it personal, saying, "Hopefully you'll be there with him after you're convicted for statutory rape."
Trump can respond from prison @AlanDersh. Hopefully you'll be there with him after you're convicted for statutory rape. https://t.co/UiUtaaeB2X

— Kathy Griffin (@kathygriffin) December 4, 2018
That last part was a reference to allegations from Virginia Roberts, who claimed that she had sex with the Harvard Law Professor Emeritus when she was underage, as part of billionaire pedophile Jeffrey Epstein's alleged trafficking operation. Dershowitz has vehemently denied the allegations, and has pointed to documented evidence that he says refutes the allegations. On Tuesday, he appeared on the Law&Crime Network to address the issue.
In response to Griffin's opening attack, Dershowitz responded by tweeting a letter to the editor he wrote to Salon that was published on Sunday. In it, Dershowitz addressed the same allegations, and detailed how he has "conclusively disproved them." To Griffin, he wrote, "For bigots like you even innocence is not a defense. See attached letter."
Griffin did not take this well, and asked why Dershowitz was accusing her of being a bigot. She then took a shot at him for representing Epstein, who had just settled a civil case brought by an attorney representing his accusers.
Bigot? You're calling me a big @AlanDersh?

Why don't you go back to representing your pedophile client Jeffrey Epstein.

Did you help him with the settlement today? https://t.co/nz9Ab9Tp2G

— Kathy Griffin (@kathygriffin) December 4, 2018
Dershowitz doubled down, then proceeded to point out what he felt was Griffin's ignorance when it comes to his connection to the Epstein case, and the American legal system in general. Dershowitz had nothing to do with the civil case or its settlement. He only represented Epstein in a criminal case, and is proud to provide constitutionally guaranteed defenses for even the most hated suspects.
You're not only a bigot. You have no understanding of the constitutional right to counsel. I didn't represent Epstein in his settlement, only in his criminal case. I'm proud to have done so & will continue to represent even the most despised accused, as the constitution mandates. https://t.co/Knm09EXx3z

— Alan Dershowitz (@AlanDersh) December 4, 2018
Griffin's first retort was a reference to a past Dershowitz client.
Do not make me send Claus von Bülow over. Because you know I will. Now get back to your so-called job you fucking hack. https://t.co/DJOBo0Ob2r

— Kathy Griffin (@kathygriffin) December 4, 2018
In the early 1980s, Claus von Bülow was convicted of the attempted murder of his wife Sunny von Bülow. He then hired Dershowitz, who helped get the decision overturned on appeal, before von Bülow was later acquitted at a second trial.
Less than an hour later, Griffin tweeted again, getting back to the question of the bigotry accusation.
Please @AlanDersh tell me why you think I'm a bigot. I'm genuinely curious now…. https://t.co/V5l3x24UQ6

— Kathy Griffin (@kathygriffin) December 4, 2018
So far, no response.
For what it's worth, Dershowitz isn't the only Harvard professor Griffin took issue with that day.
FUCK OFF https://t.co/xwSCBUy1p3

— Kathy Griffin (@kathygriffin) December 5, 2018
[Image of Kathy Griffin via Christopher Polk/Getty Images; image of Alan Dershowitz via ABC screengrab]
Have a tip we should know? [email protected]