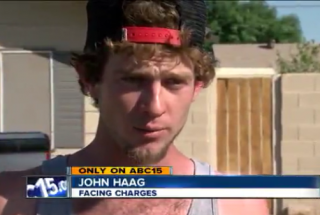 A man in Arizona tried to be a hero by stopping a robber, but allegedly committed a drive-by shooting in the process, ABC15 reported. Court papers allege that John Haag  was outside a Walgreens pharmacy, when he saw someone run out of the store. Haag went in and asked employees if they had just been robbed. When they said yes, he took off after them.
Haag allegedly got in his car and followed the robber, who was driving a U-Haul truck, and then pulled up alongside the truck and opened fire. Neither the truck nor the driver were hit.

The alleged incident occurred back in March, but police didn't arrest Haag until May, tracking down the suspected vigilante after he posted about the incident on social media. Haag is reportedly charged with aggravated assault, drive-by shooting, and unlawful discharge of a firearm.
"I had good intentions and I meant the best, and I meant to disable the vehicle," Haag told ABC15. But after firing his weapon at the robbers, he thought, "What the hell did I just do?"
Have a tip we should know? [email protected]