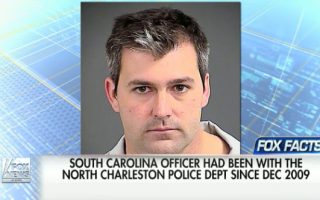 Former South Carolina police officer Michael Slager is facing civil rights charges, according to a federal indictment that was unsealed on Wednesday. Slager, who is white, allegedly shot eight times at Walter Scott, an unarmed black man who had fled from a traffic stop in April 2015, killing him. The alleged incident was caught on video by a bystander using their cell phone. Slager has been charged with depriving Scott of his civil rights, obstruction of justice, and unlawful use of a weapon during commission of a crime.
There is already a state case against Slager, where he is charged with murder. He is facing a possible life sentence in that case, which is scheduled to go to trial in the fall. Slager was released from solitary confinement on half a million dollars bail for that case, and has been held under house arrest.
Slager is set to appear before a federal judge Wednesday afternoon.
[screengrab via Fox News]
Have a tip we should know? [email protected]