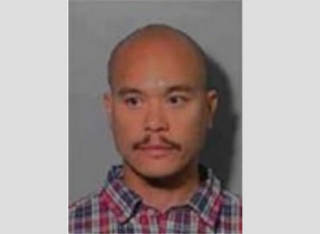 A man who appeared on the FBI Most Wanted List earlier this year for allegedly killing his pregnant girlfriend was captured at the Mexican border, according to federal law enforcement officials.
The Los Angeles Times reports Philip Patrick Policarpio,39, was captured by U.S. Customs and Border Protection agents at the Mexican border as he crossed into the U.S. from Tijuana.  Authorities say Policarpio went on the run after killing his pregnant girlfriend during a card game in April.  On April 22, he was charged with first-degree murder in Los Angeles and authorities issued local, state and federal warrants for his arrest, according to the LA Times.
Federal authorities say Policarpio and his pregnant girlfriend, Lauren Elaine Olguin, went to a gathering at friend's home on April 12.  The feds say Policarpio apparently became angry with Olquin during the gathering and started punching her in the head and face. According to police, Policarpio then pulled out a handgun and shot Olquin in the head, killing her and the baby.
Policarpio was already on parole for multiple counts of attempted murder from a 2000 case at the time he allegedly killed Olquin, according to the LA Times. 
Have a tip we should know? [email protected]