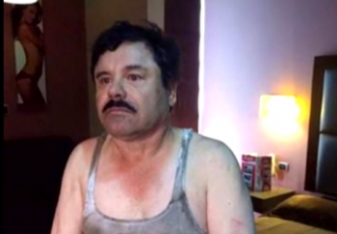 Earlier this month, a Mexican judge approved the extradition of accused Mexican drug cartel leader Joaquin "El Chapo" Guzman to the United States.  Guzman faces a slew of federal charges related to his alleged involvement as leader of the Sinaola Cartel.  Even with the extradition order approved, few expected El Chapo would actually end up on U.S soil anytime soon.  Most legal observers expected his legal team to put up a fight to tie the process up in the Mexican court system and at least delay the extradition a few years.  However, after a series of legal rulings this past week new reports over the weekend indicate there may be some dissension amongst El Chapo's legal team.
According to the Business Insider, two of El Chapo's three lawyers, held a press conference on Friday to announce that they had filed an appeal to block the alleged Kingpin's extradition.  The lawyers  criticized Mexican government officials and called the extradition process unconstitutional.  The report states a federal judge in Mexican temporarily suspended the appeal for 48 hours, pending a response to the motion from the government.
Apparently there was some miscommunication between the El Chapo legal team because the Business Insider says El Chapo's third lawyer, Jose Refugio Rodriguez, came out and loudly denounced the other two lawyers who filed the appeal.  The Associated Press reports that Rodriguez says it is not even a valid appeal because El Chapo did not sign off on it, and he suggested the two attorneys who filed it did so out of "desire for notoriety."
"This hurts Joaquin Guzman because it hinders our defense," Rodriguez told the AP.
Rodriguez did acknowledge that the two attorneys worked for El Chapo, but stressed they had no role in the appeal process.  Rodriguez says the appeals team will  be making a decisions on how to proceed in coming weeks and El Chapo will have final approval.
"We have a strategy with Joaquin and we are planning it," Rodriguez said.
Guzman is currently incarcerated in a prison facility is located on the outskirts of Ciudad Juarez, relatively close to the United States border crossing in El Paso, TX.  He is under indictment in multiple U.S. federal jurisdictions, including West Texas and Southern California.
Have a tip we should know? [email protected]