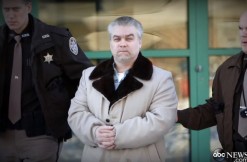 An unidentified man called in two bomb threats Tuesday, according to the City of Manitowoc in Wisconsin. Yes, the city in which Making a Murderer "star" Steven Avery used to the live, and these threats may have a connection with that case.
Sometime around 6:40 p.m., the man phoned a dispatch center, and said there were bombs in the Manitowoc County Sheriff's Office, according to a press release obtained by LawNewz. On top of that, the caller insisted there was also a vehicle in the parking lot loaded with explosives.
This individual said he was "getting justice for Steven." The press release suggests this was a reference to Steven Avery, who is in prison for the 2005 murder of photojournalist Teresa Halbach. But some Avery supporters think the Manitowoc County Sheriff's Office framed him in retaliation for a suit he was bringing against the county for a 1985 arrest and the resulting prison stay. Those issues, and the surrounding controversy was depicted in the Netflix documentary, Making a Murderer.
A perimeter was set up. Manitowoc County Sherriff's Deputies were helped by Manitowoc police and cops from Two Rivers. The Brown County Sheriff's Office sent their bomb sniffing K9 to out help too, but no explosives were discovered. The parking lots and sheriff's office were checked out. They also searched the nearby courthouse just to be safe, even though the caller didn't mention it. Things were declared all clear at 9 p.m., but another threat was called in at 9:20. Manitowoc cops checked things out again, but again, nothing suspicious or dangerous was discovered.
The investigation is ongoing.
–
>> Follow Alberto Luperon on Twitter (@Alberto Luperon)
Have a tip we should know? [email protected]