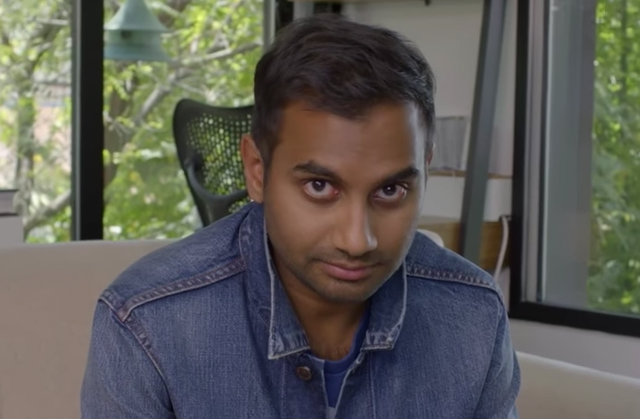 Did Aziz Ansari break the law? If recent allegations against him happened as described, then a prosecutor could have a case. That said, however, there remains room for a defense to possibly beat back hypothetical charges.
A 23-year-old photographer told the outlet babe that she went on a date with the comedian, and it went terribly. She described his actions as "sexual assault." No charges have been filed, and Ansari didn't immediately respond to a Law&Crime request for comment Sunday morning, but the story touched off an online debate about what constitutes sexual assault.
Reactions to the Aziz Ansari story remind me that we need to unpack what we mean when we excuse away terrible behavior as a "bad date" or a "bad hookup."

You'll find an awful lot of coercion and assault covered up by the vagueness and ubiquity of these terms.

— Lily Herman (@lkherman) January 14, 2018
Law&Crime doesn't often address cultural debates as such, but we are a legal site, and we do evaluate reports based on what the law says. In this case, the question is whether Ansari broke New York State law, assuming the babe report could be proven in court. The woman, whose real name was not publicized, said she went to his Tribeca apartment last September.
When Ansari told her he was going to grab a condom within minutes of their first kiss, Grace voiced her hesitation explicitly. "I said something like, 'Whoa, let's relax for a sec, let's chill.'" She says he then resumed kissing her, briefly performed oral sex on her, and asked her to do the same thing to him. She did, but not for long. "It was really quick. Everything was pretty much touched and done within ten minutes of hooking up, except for actual sex."
She claimed Ansari repeatedly pulled her hand toward his penis even though she kept moving her hand away, and in general, he wouldn't let her get away from him.  The woman said she used verbal and non-verbal cues to display her discomfort and distress. She suggested that Ansari either ignored or didn't notice the physical ones. Ansari seemed amenable and sympathetic when she told him, "I don't want to feel forced because then I'll hate you, and I'd rather not hate you." He later tried, however, to initiate sexual activities again, she said: other alleged actions include ramming his penis against her butt while he bent her over in front of a mirror; as well as kissing her, sticking his fingers down her throat, and undoing her pants while they watched TV.
Would interactions like this break the law? Law&Crime Network legal analyst Julie Rendelman, a criminal defense lawyer and former prosecutor in New York said that yes, Ansari's alleged actions possibly violated the law. Two statutes could fit. First, there's forcible touching, a class A misdemeanor. There is also sexual abuse in the third degree, a Class B misdemeanor.
It's not as simple as that, however. A prosecutor would have to prove there is a clear lack of consent. The woman's account described non-verbal cues, and that alone might not be enough to reach a conviction.
"Nonverbal can be much more confusing than verbal cues," Rendelman said. The woman's claim could potentially be undermined because she willingly went on a date and returned to Ansari's home.
Nonetheless, that alone won't destroy a prosecutor's case.
"People get raped by their husbands," Rendelman said. "People get raped by their loved ones. You have to look at the potential crime in a broad way. In the purest of terms, if at any stage of intimacy she said no, then we start to blur the line into criminal conduct. There seem to be some verbal cues. The question becomes whether it rises to the level of lack of consent. It sounds like he was a lech, though it's unclear at this point if it rises to the level of criminal conduct. Obviously, more investigation by a prosecutor would be needed."
If you want to learn more, you can read the relevant statutes below:
A person is guilty of forcible touching when such person intentionally, and for no legitimate purpose:

1. forcibly touches the sexual or other intimate parts of another person for the purpose of degrading or abusing such person, or for the purpose of gratifying the actor's sexual desire; or

2. subjects another person to sexual contact for the purpose of gratifying the actor's sexual desire and with intent to degrade or abuse such other person while such other person is a passenger on a bus, train, or subway car operated by any transit agency, authority or company, public or private, whose operation is authorized by New York state or any of its political subdivisions.

For the purposes of this section, forcible touching includes squeezing, grabbing or pinching.

Forcible touching is a class A misdemeanor.
Sexual abuse in the third degree:
A person is guilty of sexual abuse in the third degree when he or she subjects another person to sexual contact without the latter`s consent; except that in any prosecution under this section, it is an affirmative defense that (a) such other person`s lack of consent was due solely to incapacity to consent by reason of being less than seventeen years old, and (b) such other person was more than fourteen years old, and (c) the defendant was less than five years older than such other person.

Sexual abuse in the third degree is a class B misdemeanor.
Note: A spokesperson for Ansari supplied a statement to The Hollywood Reporter after the publication of this article. Here's the text:
In September of last year, I met a woman at a party. We exchanged numbers. We texted back and forth and eventually went on a date. We went out to dinner, and afterwards we ended up engaging in sexual activity, which by all indications was completely consensual.

The next day, I got a text from her saying that although "it may have seemed okay," upon further reflection, she felt uncomfortable. It was true that everything did seem okay to me, so when I heard that it was not the case for her, I was surprised and concerned. I took her words to heart and responded privately after taking the time to process what she had said.

I continue to support the movement that is happening in our culture. It is necessary and long overdue.
[Screengrab via Vogue]
Have a tip we should know? [email protected]