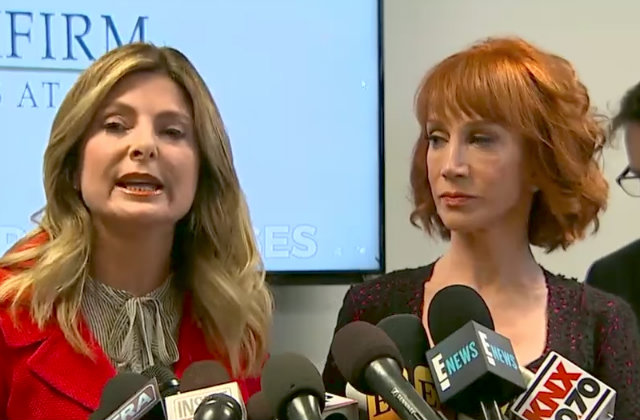 Comedian Kathy Griffin publicly cut ties with Lisa Bloom on Sunday. The attorney was representing her over a controversial picture in which the comedian held a bloody, decapitated Trump head.
Dear @LisaBloom pls stop calling me. If you'd like to refund me the tens of thousands of $$ I wasted on your services maybe I'll talk to you

— Kathy Griffin (@kathygriffin) October 22, 2017
It's unclear precisely why Griffin is finished with Bloom. Law Newz reached out to her for comment.
Bloom answered back with her own statement issued Sunday afternoon. Her tone may have been cordial, but she slammed the comedian, painting her as an uncooperative client. She said Griffin blamed her for blowback from their June 2nd press conference.
My statement re Kathy Griffin. pic.twitter.com/Xhvwiz1pcx

— Lisa Bloom (@LisaBloom) October 22, 2017
Griffin didn't stick to pre-prepared notes, Bloom said. Instead, the comedian improvised.
"She was, as she says, then widely panned for her comments," Bloom said. "Now she blames me. She's the only client I've ever had who chose to extemporize at a press conference rather than read from notes we prepared in advance." Bloom said they've both gotten death threats since then.
Griffin caught flak for a photo in which she held the bloody, decapitated facsimile of President Donald Trump's head. Incendiary speech? Sure. The Service Service even interviewed her for this. Will she go to prison? Nah. The First Amendment protects her.
[Screengrab via Fox 10 Phoenix]
Have a tip we should know? [email protected]