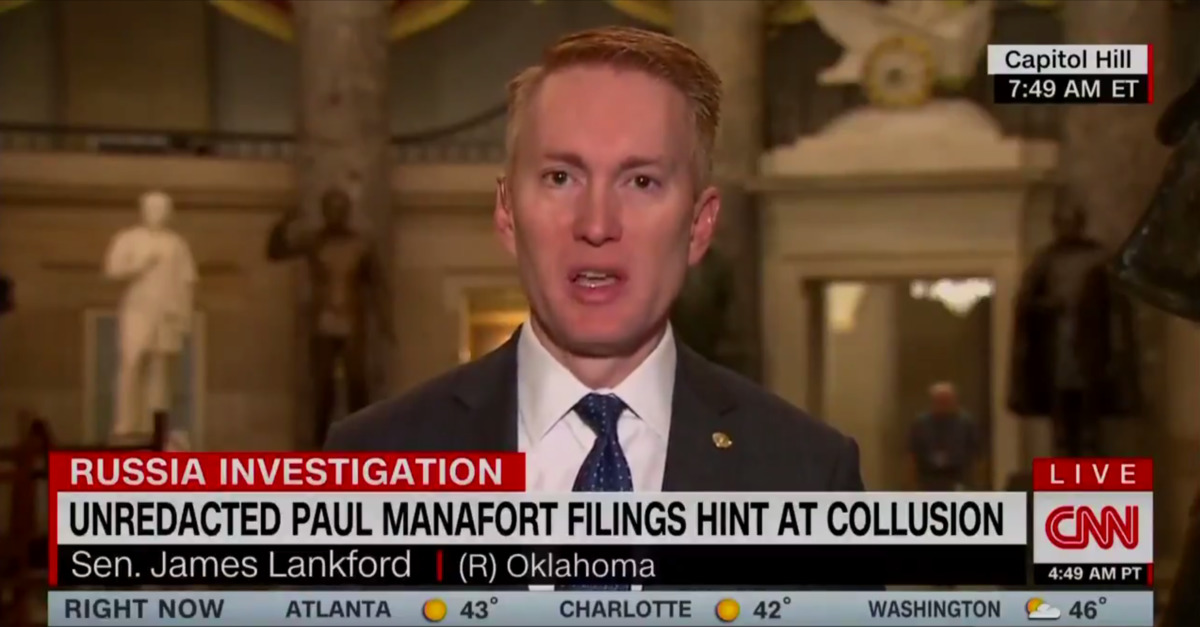 Convicted felon Paul Manafort had himself a willing defender amidst the Senate Republican Conference on Wednesday morning. That defense, however, has multiple legal experts rolling their eyes.
News broke late Tuesday that President Donald Trump's former 2016 campaign chair may have shared polling data with Russian political consultant Konstantin Kilimnik during the 2016 presidential election. Alarm bells immediately went off across the Beltway-Manhattan nexus and the word "collusion" re-entered the shared-if-fleeting media vocabulary at saturation levels once again.
U.S. Senator James Lankford (R-Okla.) was pressed on the apparent implications of the Manafort-Kilimnik relationship by CNN host John Berman on Wednesday.
"We just learned yesterday–because of a [sic] inadvertently unredacted court filing–that Paul Manafort, then the president's campaign chair delivered Trump campaign polling to someone connected to Russian intelligence," Berman noted.
The CNN host then asked, "Were you aware of that and does that contact between a Trump campaign official and Russian intelligence constitute a form of collusion?"
To which Lankford replied:
No, it doesn't…this is an ongoing relationship that Paul Manafort had with Ukraine. He was a representative of Ukraine, worked for the Ukrainian government and was trying to be able to work for a peace proposal…he had Ukrainian clients, this was a Ukrainian client. This person also previously worked for the Russian military but so did most everybody in that. So, I don't see this as a deliberate contact with the Russian government. This was a person that he had worked with for a decade-and-a-half at that point in Ukraine. And so we need to get the whole story on it because [the reporting] makes it sound like this was some secret back channel communication. If it was, this was some that Paul Manafort had known for a very long time and trusted.
Former FBI special agent Asha Rangappa, who is also a lawyer, was quick to raise her eyebrows at Lankford's dismissal.
"So if you're already a Russian asset, continuing to spy for them is not intentional?" she asked out loud on Twitter.
Law&Crime also reached out to several legal experts for their take on Lankford's theory here.
Julie Rendelman is a former prosecutor and currently a defense attorney working in New York City. She also presently serves as an analyst on the Law&Crime Network. Rendelman took both Manafort's defense and Lankford to task over this latest episode.
"First, how in the world did Manafort's attorneys miss these redactions?" she said. "In terms of Lankford's comments, it seems a pretty poor argument to suggest that two people can't collude with each other simply because they have a relationship. One would argue that one usually colludes with those they have a relationship with. Not the other way around."
National security lawyer Bradley P. Moss was similarly dismissive of Lankford's explanation.
"The Senator's explanation defies logic and bears no relation to the facts," Moss told Law&Crime. "Campaign polling data has nothing to do with a Ukrainian peace deal. The idea that one is related to the other is laughably stupid."
Former Assistant U.S. Attorney and current Pace Law School distinguished criminal justice fellow Mimi Rocah also took aim at Lankford's suggestion.
In an email she said:
That's ridiculous. It's like saying people can't ever commit crimes together because they're friends. And that's certainly not the case. In fact, people often turn to people they know and trust to commit crimes. A prior relationship doesn't determine the appropriateness of these interactions at these particular times which look and sound like collusion and possibly criminal conspiracy.
Law&Crime Network analyst and former prosecutor Bob Bianchi also offered his thoughts on Lankford's defense.
"I generally respect this senator, but he is missing the point," Bianchi told Law&Crime via email. "This Manafort connection explains many things. He was allowed to infiltrate a campaign and worked with a foreign adversarial government to influence our election by providing data and intelligence on at a minimum polling data. That data was used as electronic warfare to target American voters with misinformation and outright lies, not to mention to sow discord among us and undermine our faith in democracy."
Bianchi, who currently works as a criminal defense attorney, went on to explain the new Manafort news in light of other Russia-related developments.
"It is hard for me to reconcile the senator mitigating this new Manafort data in the context of the Trump Tower meeting with another Russian operative," Bianchi said, while also calling attention to the "RNC platform change that favors Russia," the infamous Helsinki meeting and other apparently pro-Russia policies and postures staked out by the Trump administration.
"All of these data points make these new revelations about Manafort earth shattering to anyone being intellectually honest," Bianchi concluded.
[image via screengrab/CNN]
Editor's note: this story has been amended post-publication to include additional responses from legal experts.
Have a tip we should know? [email protected]