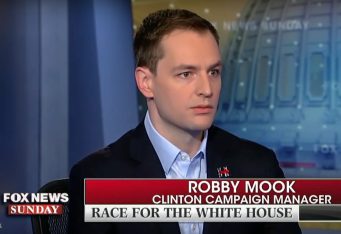 Wikileaks released another group emails on Thursday that were leaked from an account belonging to Hillary Clinton's campaign chairman John Podesta.  The latest emails provide more insight on the campaign's behind the scenes reactions to the New York Times report in March 2015 that first disclosed Clinton's use of a private email server.  One email chain in particular suggests that Clinton withheld information on her use of the private server from top campaign officials, including campaign manager Robby Mook.
Late in the evening on March 2, 2015, the date the email server story was published in The New York Times, campaign chairman John Podesta emailed Mook, asking for details about the story.
Clinton spokesperson Robby Mook to John Podesta on Clinton emails: "[we] were told everything was taken care of" https://t.co/8qr2PoOIAv pic.twitter.com/3lBtrUOZU0

— WikiLeaks (@wikileaks) October 27, 2016
"Did you have any idea of the depth of this story?" Podesta asked.
"Nope," Mook replied, "We brought up the existence of emails in reserach [sic] this summer but were told that everything was taken care of."
The conversation suggests Clinton and her team of aides that helped manage the email server issues did not fully disclose all of the details about the matter to top members of her campaign team.
This suggestion is supported by other leaked email conversations from the evening of March 2, 2015 between Podesta and Clinton ally Neera Tanden.
As LawNewz.com reported earlier this week, Podesta sent Tanden an email that appeared to express his frustration with Clinton attorney David Kendall and top aides Cheryl Mills and Philippe Reines for not being all that forthcoming with facts about the email server.
"Speaking of transparency, our friends Kendall, Cheryl and Phillipe sure weren't forthcoming on the facts here," Podesta wrote.
Have a tip we should know? [email protected]