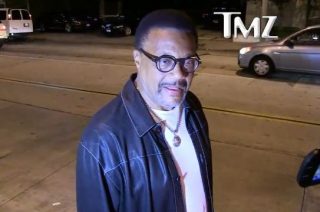 Early Wednesday morning, a man dressed like a construction worker, in a vest and hard hat, was caught on video taking a pickax and sledgehammer to Donald Trump's star on the Hollywood Walk of Fame, destroying it. The man, who identified himself to Deadline as James Otis, said he has family members who were sexually assaulted, and that he planned to sell the mark to raise funds for the women who had accused Trump of assaulting them.
That night, TMZ caught up with television's Judge Greg Mathis (of Judge Mathis fame) to get his opinion on the matter. Mathis, who once served on the bench in Michigan, acknowledged that "it is malicious destruction of property," but indicated that if he were the judge over Otis' case, he wouldn't come down too hard on him.
"He should get a $100 fine and an award," Mathis said. Apparently the judge is not exactly a Trump fan.
Watch video of the actual destruction of Trump's star here:
According to TMZ, Otis is expected to be arrested on a felony charge on Thursday.
[Screengrab via TMZ]
Have a tip we should know? [email protected]