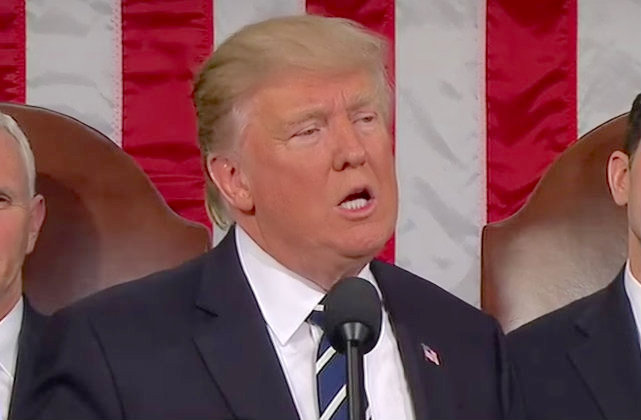 The Washington Post reported late Sunday night that attorneys for the State of Maryland and the District of Columbia plan to sue President Donald Trump on Monday for allegedly accepting payments from foreign governments, as a result of maintaining interests in his private businesses. The lawsuit will reportedly claim that because Trump has not divested from his global business empire, any money received through his properties could violate the foreign or domestic emoluments clauses of the Constitution.
The foreign emoluments clause prohibits any public official from collecting "any present, Emolument, Office or Title, of any kind whatever," from a foreign state or official such as a king or prince. The domestic clause prohibits the President from accepting gifts from a state, as a measure to prevent the President from favoring some states over others. According to an early copy of the complaint obtained by the Post, the lawsuit alleges that Trump's business interests have caused him to be "deeply enmeshed with a legion of foreign and domestic government actors."
The lawsuit, should it survive the inevitable motions to dismiss, could be what finally forces the President to disclose his tax returns. D.C. Attorney General  Karl A. Racine and Maryland AG Brian E. Frosh, who are filing the lawsuit, told the Post that they would demand copies of Trump's personal tax returns as part of the discovery process. They said, "we'll need to see his financial records, his taxes that he has refused to release," in order to know to what degree, if at all, the President's business activities violate the constitution.
"This case is, at its core, about the right of Marylanders, residents of the District of Columbia and all Americans to have honest government," Frosh told the Post. Racine said that he felt compelled to file the lawsuit because Congress is not taking what he considers to be sufficient action when it comes to Trump's potential conflicts of interest. "We're getting in here to be the check and balance that it appears Congress is unwilling to be," Racine said.
The White House has not responded to LawNewz.com's request for comment. The Trump administration has, however, responded to similar issues brought by a separate Emoluments Clause lawsuit brought by watchdog group Citizens for Responsibility and Ethics in Washington. In a court filing in that lawsuit, the administration argued that market-rate payments to Trump's properties do not violate the Constitution, and cited examples of past presidential transactions, including George Washington selling farm produce abroad.
[Image via screengrab]
Have a tip we should know? [email protected]