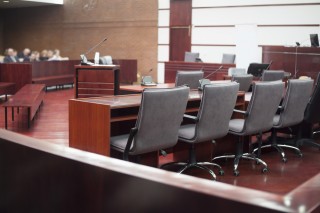 Three Washington state residents are suing their county over low pay for jurors. According to a complaint filed against last week, jurors in King County are paid 10 dollars per day plus travel expenses. Ryan Rocha, Nicole Bednarczyk, and Catherine Selin claim that this has a disproportionate effect on people of color and those with low incomes, preventing them from fulfilling their civic duty due to financial hardship if their employers don't pay them for the time off. They are seeking class action status.
The complaint says, "Washington law prohibits exclusion from jury service on account of race, color, religion, sex, national origin, or economic status." While jury pay does not actively bar anyone from jury service for these reasons, the complaint alleges that it effectively does do this, because it effects people of color more than whites, and places a greater hardship on those with low incomes who cannot afford to miss work without greater compensation from the government.
The complaint also claims that jurors qualify as employees under the Washington Minimum Wage Act, and should be paid no less than minimum wage. They allege that by only paying $10 per day, a rate that has been in effect since 1959, King County is breaking the law. The minimum wage in Seattle, which is in King County, is currently $13/hour —  or $104 for an eight-hour day — and is scheduled to increase to $15/hour in 2017. The Washington state minimum wage is currently $9.47/hour, or $75.76 per day. The first year that the state had a minimum wage was 1961. Back then, $10 for one day was more than the $1.15/hour minimum.
As a point of reference, federal courts pay $40 per day. According to the National Center for State Courts, states vary greatly when it comes to juror payment, with $50 per day being the most, and a number of states paying $10 or even less. Only New Mexico pays according to their minimum wage. Several states, including Washington, allow counties to set their own rules, as long as they abide by certain minimum standards ($10 per day in Washington, less in some states). Some states don't pay at all for the first days, but pay more if the case keeps going.
The complaint was filed in Pierce County instead of King County, in order to avoid a conflict of interest. It should be noted that Pierce County also pays $10 per hour.
[Image via Shutterstock]
Have a tip we should know? [email protected]