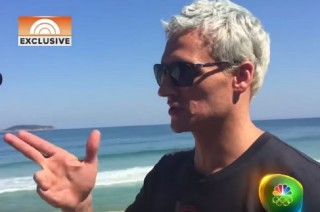 Judge Keyla Blanc de Cnop said that U.S. Olympic swimmers Ryan Lochte and Jimmy Feigen gave contradictory reports of an alleged robbery to authorities. According to the Los Angeles Times, the judge also issued a search warrant, and ordered police to seize the swimmers' passports to keep them in the country.
Lochte's father reportedly told the Associated Press that his son is back in the U.S., but he U.S. Olympic Committee would not disclose the location of Lochte or Feigen. The USOC said in a statement, "The swim team moved out of the village after their competition ended, so we were not able to make the athletes available."
Lochte, Feigen, and teammates Gunnar Bentz and Jack Conger had all claimed that they were robbed at gunpoint by individuals posing as Rio police when they were returning to the Olympic Village from a party. Police said that they had not found evidence of the alleged crime, the judge's statement claimed that there was security footage showing the four men returning to the Olympic Village that morning in good spirits, and the International Olympic Committee claimed that day that the report was false.
The Daily Mail obtained footage that is supposedly the video mentioned by the judge.
WATCH:

According to the Associated Press, local police said that the athletes couldn't provide details of the alleged robbery when they spoke with them, but Lochte said he was intoxicated at the time of the incident and couldn't remember. Investigators could not find the driver of the taxi that they were allegedly in at the time of the robbery.
Jeff Ostrow, Lochte's lawyer, said that the robbery did happen, and that Lochte even arranged for 24-hour security after it happened.
[Screengrab of Ryan Lochte via NBC]
Have a tip we should know? [email protected]