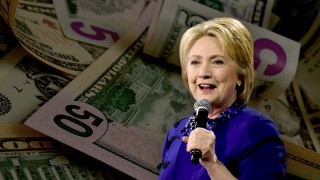 Our nation's top universities educate many of the country's most influential leaders, including all but one of the Republican and Democratic contenders for President. These same elite institutions often contend they foster an environment where all beliefs are accepted and that they just teach students "how" to think not "what to think." Most educators would insist there is not an overtly liberal bias in education, but a LawNewz.com analysis seems to confirm conservatives' greatest fears.
We spent days combing through Federal Election Commission records, and determined that the employees at the nation's 'Top 10′ universities are overwhelmingly in support of Democratic presidential candidates. In fact, according to our analysis, Hillary Clinton got a whopping 83% of all donations from professors, administrators, and employees. Since last January, she brought in nearly $1 million from these university employees. The next closest is Bernie Sanders who received 7% of all donations or about $65,000. Apparently, professors don't love Bernie as much as their students do.
However, there is one Presidential contender who university employees really really don't like.  Republican front runner Donald Trump literally got no donations — not one — in the hundreds that we sorted through.
To conduct our analysis, we used the U.S. News & World Report rankings which puts Princeton University, Harvard University, Yale University, Columbia University, Stanford University, University of Chicago, MIT, Duke University, University of Pennsylvania, California Institute of Technology, and Johns Hopkins University in the top ten. By way of background, Hillary Clinton attended Yale Law School.  Bernie Sanders went to University of Chicago. Ted Cruz went to Princeton and Harvard Law School. And, Donald Trump attended The Wharton School at the University of Pennsylvania.
Here is the breakdown of employee contributions: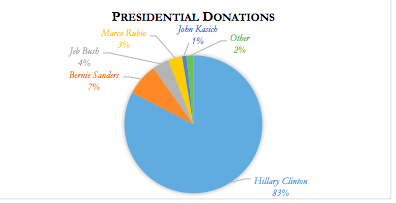 Employees at Stanford University donated the most to Clinton, giving her more than $200,000. Harvard wasn't far behind at $172,980. The only Republican candidate who actually made a respectful dent in donations ($33,800) was Jeb Bush who has since dropped out.
"I would love to see even more political engagement on the part of the faculty. I think people shouldn't be afraid to voice their opinions," William Eacho, professor of the practice of public policy at Duke University told the school newspaper. "I think citizenship is a responsibility. Part of that responsibility is not just getting out to vote but giving back, doing public service when you're asked and supporting the political campaigns you think will do a good job when they're elected."
Here is the breakdown by school in $$$ donations for Sanders and Clinton:
While these universities  stress the importance of accepting and embracing all political opinions, the data clearly proves what has long been suspected at elite universities: professors and faculty are overwhelmingly liberal. Faculty members have pulled out their check books time and time again to support the Democratic front runner in the 2016 presidential race.
Have a tip we should know? [email protected]
Rachel Stockman - President / On Air Host