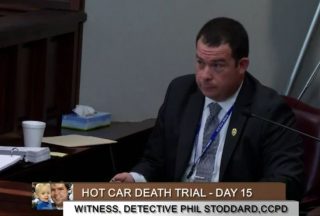 As the third week of Justin Ross Harris's murder trial continued, so did the cross-examination of lead investigator Detective Phil Stoddard. For days, Stoddard had been answering questions regarding the case, where Harris is accused of intentionally leaving his 22-month-old son Cooper in a hot car to die. Harris claims it was an accident.
Before the trial began there was a lot of information out there as a result of the investigation and pre-trial hearings, leading many to believe the prosecution had a strong case against Harris. His online history was made to include incriminating searches, but once Stoddard actually testified at trial, it turned out to be a lot less suspicious than once believed. There had been talk that Harris searched for videos regarding hot car deaths, including one where a veterinarian discussed the effects that a hot car could have on pets. Harris was also believed to have visited an online forum on Reddit.com called "Child Free," with the implication being that he was looking to live a child-free life.
–>WATCH TRIAL LIVE ON LAWNEWZ FACEBOOK
Previously, the "Child Free" evidence was a bit debunked, as it turned out that it was just a link that someone sent to Harris, and that Harris replied by saying, "Grossness." Today, Detective Stoddard acknowledged that Harris hadn't searched for the vet video either. All he was able to confirm is that Harris had accessed the video twice. There was no evidence that he looked for it himself, or that he even watched the whole thing. Stoddard acknowledged that an outside consultant was brought in to examine Harris' online history, yet he never reviewed the results of the consultant's investigation. "I don't even know if a report's been made," Stoddard said.
The afternoon involved much debate over whether the jury could view a 3D rendering of Harris' SUV with the car seat inside. The defense argued against it, saying that the version the prosecution wanted to use was different from what they originally had, and that the new version used measurements that were not based on testimony. Judge Mary Staley Clark decided to allow the 3D rendering.
Court will resume Thursday morning. Before testimony begins for the day, the jury will leave the courtroom to see Harris' actual SUV, with Cooper's car seat inside. We will continue our LIVE trial coverage and analysis on our Facebook page.
Have a tip we should know? [email protected]