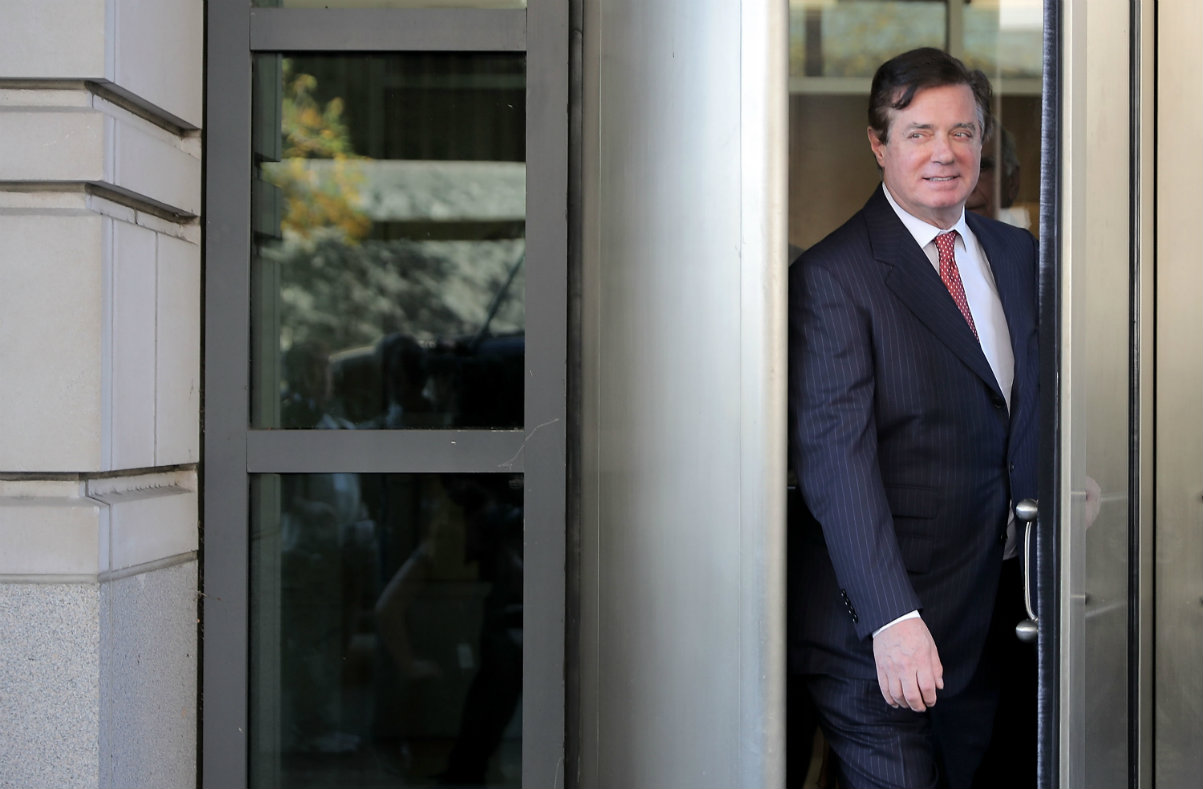 With all the attention on former Donald Trump campaign chairman Paul Manafort's criminal case, it can be easy to forget there is a gag order on it. Manafort didn't forget though, and his legal team continues to butt heads with Special Counsel Robert Mueller's office over alleged leaks to the media.
A new filing from prosecutors on Monday downplays and opposes Manafort's demand for a hearing over the leaks because the alleged leaks cited by the defendant have nothing to do with a grand jury investigation.
"The government attorneys and agents involved in this case understand and respect their duty to preserve grand-jury secrecy as required by Rule 6(e) and to avoid public disclosures that could jeopardize a defendant's right to a fair trial," they write, dismissing Manafort's allegations as a "speculative claim of improper conduct" and saying that a pretrial hearing on alleged government leaks "would itself generate publicity on the very matter that Manafort finds prejudicial."
Manafort is being prosecuted in connection to the defendant's work with the Ukrainian government. Charges include money laundering and bank fraud, but while the case spun out of Mueller's probe into Russian interference, the accusations against the defendant have nothing to do with alleged collusion between the Trump campaign and Moscow. Co-defendant Richard Gates has pleaded guilty. In fact, it's media reports preceding the plea deal that Manafort cited in his April 30 demand for a hearing on the alleged leaks.
For example, CNN caught wind of Gates' pending plea deal. Manafort's filing argued that the "only reasonable inference" is that the background sources in this story were government officials.
In Monday's filing, prosecutors dismissed the inference as "anything but reasonable." From the filing [citations removed]:
As an initial matter, neither of the two articles identifies its sources as a law enforcement or other government official. They instead link the information to "people familiar with the probe" (or "the case"), … a phrase that is broad enough to include individuals outside of the government. Further, even if a reported refusal to comment is taken as facially valid, the cited CNN article states only that three of Gates's lawyers had "declined to comment," at a time when Gates had four counsel of record and his representation was in flux.
You can read the rest of the filing here.
[Image via Chip Somodevilla/Getty Images)]
Have a tip we should know? [email protected]