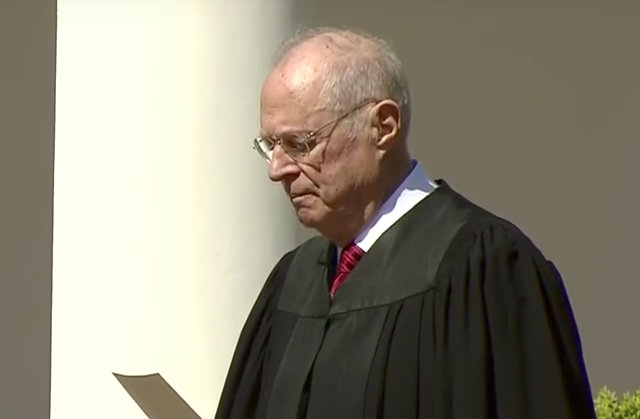 Justice Anthony Kennedy has told law clerk applicants for the Oct. 2018 term that he's thinking about stepping down from the bench, according to an NPR report from Saturday. In fact, he hasn't hired anybody yet for that time period. That means a Supreme Court vacancy might open up before the 2018 midterm election.
Kennedy, who turns 81 on July 23, will remain for the meantime, having already chosen his law clerks for the term beginning Oct. 2017.
Whenever he does step down, his absence will transform the court. He made his name as the "swing-voter," becoming the decisive vote on close, 5-4 cases. For example, he wrote the majority opinion in 2015's Obergefell v. Hodges, the ruling that legalized same-sex marriage nationwide. He also wrote the majority opinion on Citizens United v. FEC, a decision that definitely didn't appeal to left-wingers.
Donald Trump has already promised to nominate only conservative jurists to the court, and picked originalist Neil Gorsuch to replace the late Antonin Scalia. If Kennedy leaves, the president can replace him with someone more ideologically appealing to the GOP. The court would likely move rightward on hot-button issues. The precise effect on case law remains hypothetical, however.
Another consideration is how his timing will influence his replacement's nomination process. Let's say he does retire before the Oct. 2018 term. Could the proximity to the midterms complicate matters?
Democrats and their base remain bitter over how Gorsuch gained his seat: President Barack Obama originally tapped Judge Merrick Garland to replace Scalia in March 2016, almost eight full months before the presidential election. Nonetheless, Senate Republicans led by Kentucky's Mitch McConnell used their 54-46 majority, and refused to move forward with confirmation, arguing that the next president needed to fill the vacancy. The GOP won that fight. For comparison's sake, it took just over two months for Gorsuch to get his seat, from nomination to oath of office.
So Dems are politically motivated to stall the nomination process until after the midterms. Can they take back the Senate? Could they get a majority? Strictly speaking, they stand more to lose than the GOP: Only eight Republicans stand for reelection, while 23 Democrats and 2 Independent caucus members will fight to keep their jobs.
[Screengrab via WJHL]
Have a tip we should know? [email protected]