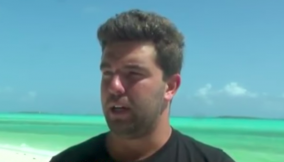 NEW YORK (AP) — The promoter of a failed Bahamas music festival has been freed on bail a day after he was arrested on a fraud charge.
Billy McFarland left Manhattan federal court Saturday with Assistant Federal Defender Sabrina Shroff.
McFarland was charged Friday with scheming to defraud investors in his company, Fyre Media.
The charges stem from McFarland's promotion of the Fyre Festival. It was billed as an ultra-luxurious event to take place on the island of Exuma over two weekends in April and May.
Ticket buyers were told headlines would include Blink-182 and the hip-hop act Migos but performers backed out and the show was canceled.
Prosecutors say the 25-year-old McFarland used fake documents to trick investors. He was freed on $300,000 bail, telling reporters he'd love to speak but can't.
Have a tip we should know? [email protected]